March 5, 2013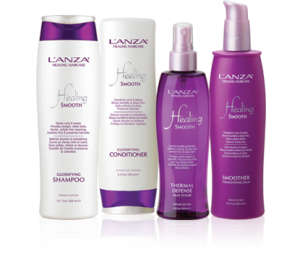 Do you crave a sleek, shiny look for your hair? If your frizzy, curly hair has got you up in arms, look no further than L'ANZA's healing smooth line of products, in particular, the Smoother Straightening Balm.
For more than 25 years, L'ANZA has been creating hair care products that target the causes of damaged hair, not just the symptoms. Their products combine the best modern technological advances with the healing properties found in nature, resulting in the healthy look you want for your hair. And L'ANZA's Smoother Straightening Balm is no exception.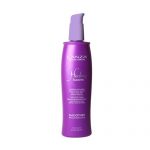 The Smoother Straightening Balm utilizes a keratin healing system to help heal, seal, and protect your hair. It smooths hair to stop frizz (especially important in our moist Portland climate!) and adds brilliant shine. Organic coix seed, which has been used for centuries in traditional Chinese medicine, calms curls and waves for a super straight result.
For a gentle hold and straighter appearance to hair, simply spritz the balm onto wet hair and allow it to air dry. For a super straight style, spray onto wet hair before blow drying. The balm may even reduce the amount of flat ironing that your style requires, helping your hair stay healthier. You'll love the look you get and the soft shine that makes your hair gleam.
And for stylish girls who are also eco-conscious, L'ANZA products do not contain any known carcinogens and are never tested on animals. In addition, their packaging is not only recyclable, but also made from recycled materials. L'ANZA values a world where the health of your hair doesn't come at the cost of the Earth.
L'ANZA Healing Smooth and Smoother Straightening Balm are on 20% off during the month of March at Phagans Retail counters.