October 30, 2023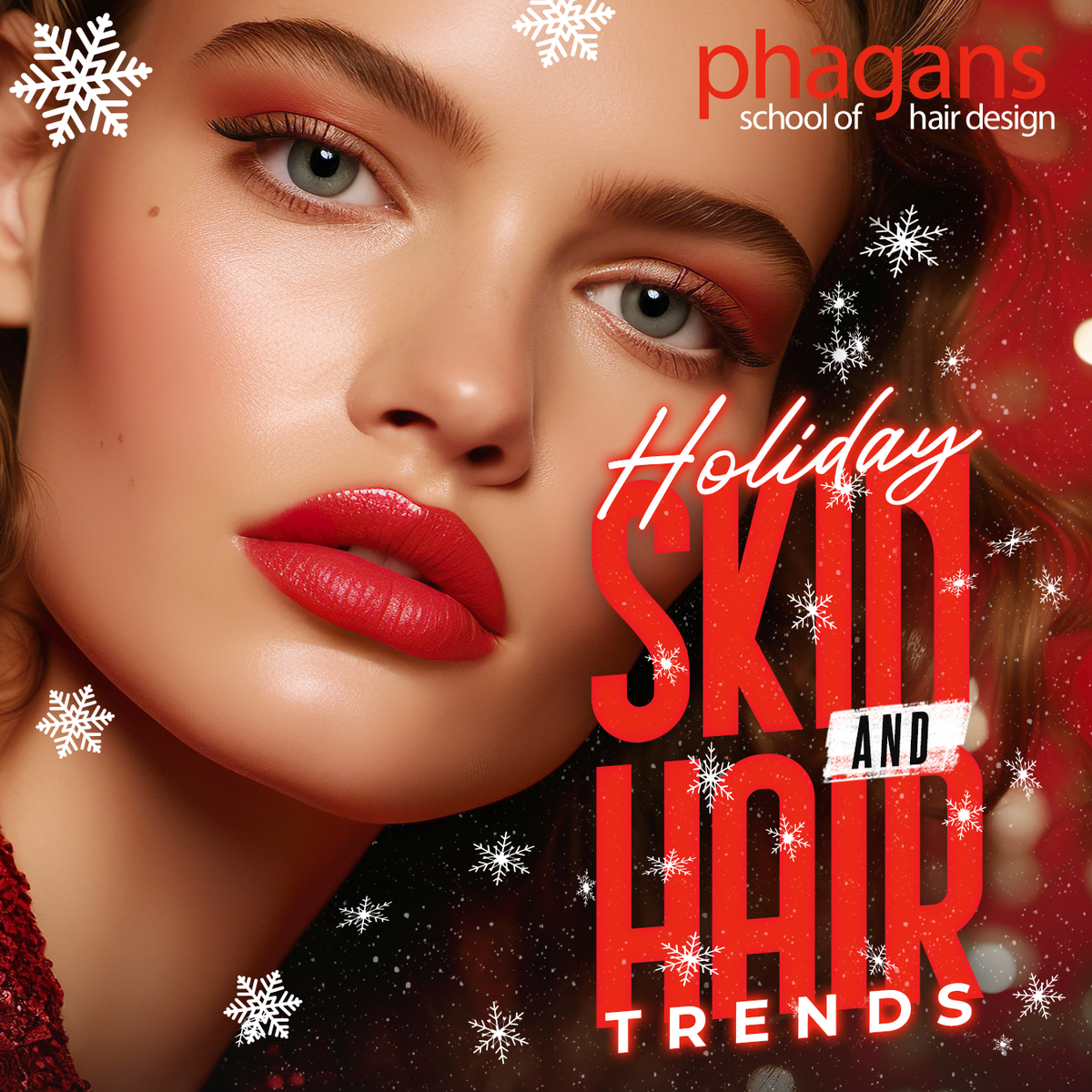 The holiday season is upon us, and there's no better time to add a touch of glamour to your everyday beauty routine. Whether you're planning to attend festive gatherings, parties, or simply want to look your best during the holiday season, Phagans School of Hair Design has you covered. In this blog, we'll explore the latest skin and hair trends for the holidays, ensuring that you shine as bright as the holiday lights.
Glowing Skin for Festive Radiance
As the holiday season approaches, it's time to refresh your skincare routine to achieve a radiant and glowing complexion. A combination of colder weather and the joy of the holiday season can leave your skin in need of some extra TLC. Here's how you can achieve that holiday glow:
Hydration is Key
Cold weather can be harsh on your skin, leaving it dry and dull. Ensure that you keep your skin well-hydrated by using a high-quality moisturizer. Products like hydrating serums and moisturizing masks can be a lifesaver, especially during the winter months.
Holiday Makeup Tips
The holiday season is the perfect time to experiment with makeup. This year, metallic and shimmery eyeshadows are all the rage. Think gold, silver, and bronze shades to create a festive, sparkly look. And don't forget to use a setting spray to lock your makeup in place for the long haul.
Holiday Skincare Essentials
Preparing your skin for the holiday season also involves understanding the importance of a solid skincare routine. Here are some holiday skincare essentials:
Exfoliation: Exfoliation is key to getting rid of dead skin cells and ensuring that your skin looks fresh and vibrant. Consider using a gentle exfoliating scrub once or twice a week.
 Sunscreen: Even during the winter months, it's essential to protect your skin from the sun's harmful UV rays. A broad-spectrum sunscreen with an SPF of at least 30 is a must.
Face Masks: Treat yourself to a luxurious face mask at least once a week. There are masks available for every skin type, whether you need hydration, brightening, or deep cleansing.
Hair Trends to Sleigh
Your hair can be a showstopper during the holiday season. Here are some hair trends to consider for the perfect festive look:
Classic Curls
You can never go wrong with classic curls during the holidays. Whether you opt for loose, beachy waves or tighter curls, this timeless look exudes elegance and is perfect for any holiday event. Consider visiting Phagans School of Hair Design for a professional curling session if you're looking for flawless curls that last all night.
Festive Hair Accessories
Embrace the festive spirit by adding some holiday-themed hair accessories. Think bows, glitzy hairpins, or even a sparkling tiara. These accessories can instantly elevate your hairstyle and make you feel like a holiday queen.
Sleek and Shiny
If you prefer a more sophisticated and sleek look, consider straight, shiny hair. It's the ideal complement to any glamorous outfit and can be achieved with the help of professional hair straighteners and nourishing hair serums.
Self-Care for the Holidays
The holiday season can be hectic, but it's vital to prioritize self-care to look and feel your best. Here's how you can incorporate self-care into your holiday routine:
Stress Management
Stress can take a toll on your skin and hair. Consider relaxation techniques such as meditation, yoga, or a warm bath to help you unwind.
Healthy Eating
A balanced diet is essential for healthy skin and hair. Incorporate fruits, vegetables, and plenty of water into your daily meals. Avoid excessive sugar and alcohol consumption, as they can wreak havoc on your complexion.
Sleep
A good night's sleep is one of the best beauty treatments. Make sure you get enough rest to allow your body to repair and regenerate, keeping your skin and hair in top condition.
The Benefits of Professional Help
Sometimes, achieving the perfect holiday look requires professional assistance. Phagans School of Hair Design can be your go-to destination for all your beauty needs. Here's why professional help can make a significant difference:
Expertise
The talented students at Phagans School of Hair Design have the knowledge and experience to help you achieve your desired look. Whether it's a new hairstyle, a fresh haircut, or a flawless makeup application, our *students can help transform your appearance.
High-Quality Products
Professionals use high-quality hair and beauty products that can make a world of difference. These products are carefully chosen to ensure they are safe and effective for your skin and hair.
Tailored Recommendations
One of the most significant advantages of professional help is that you can receive personalized recommendations. We can assess your unique needs and guide you in achieving your desired look.
*All students are supervised by licensed professionals
Book An Appointment!
This holiday season, embrace the festive spirit and dazzle everyone with your radiant skin and gorgeous hair. By following the trends and tips we've discussed in this blog, as well as seeking professional assistance from Phagans School of Hair Design, you can be confident that you'll look and feel your best. Remember that self-care is essential, and maintaining a solid skincare and haircare routine can go a long way in ensuring you shine bright during the holidays. So go ahead, get ready to sleigh the season with your captivating holiday look!
If you're ready to book an appointment, you can do so here.