June 30, 2023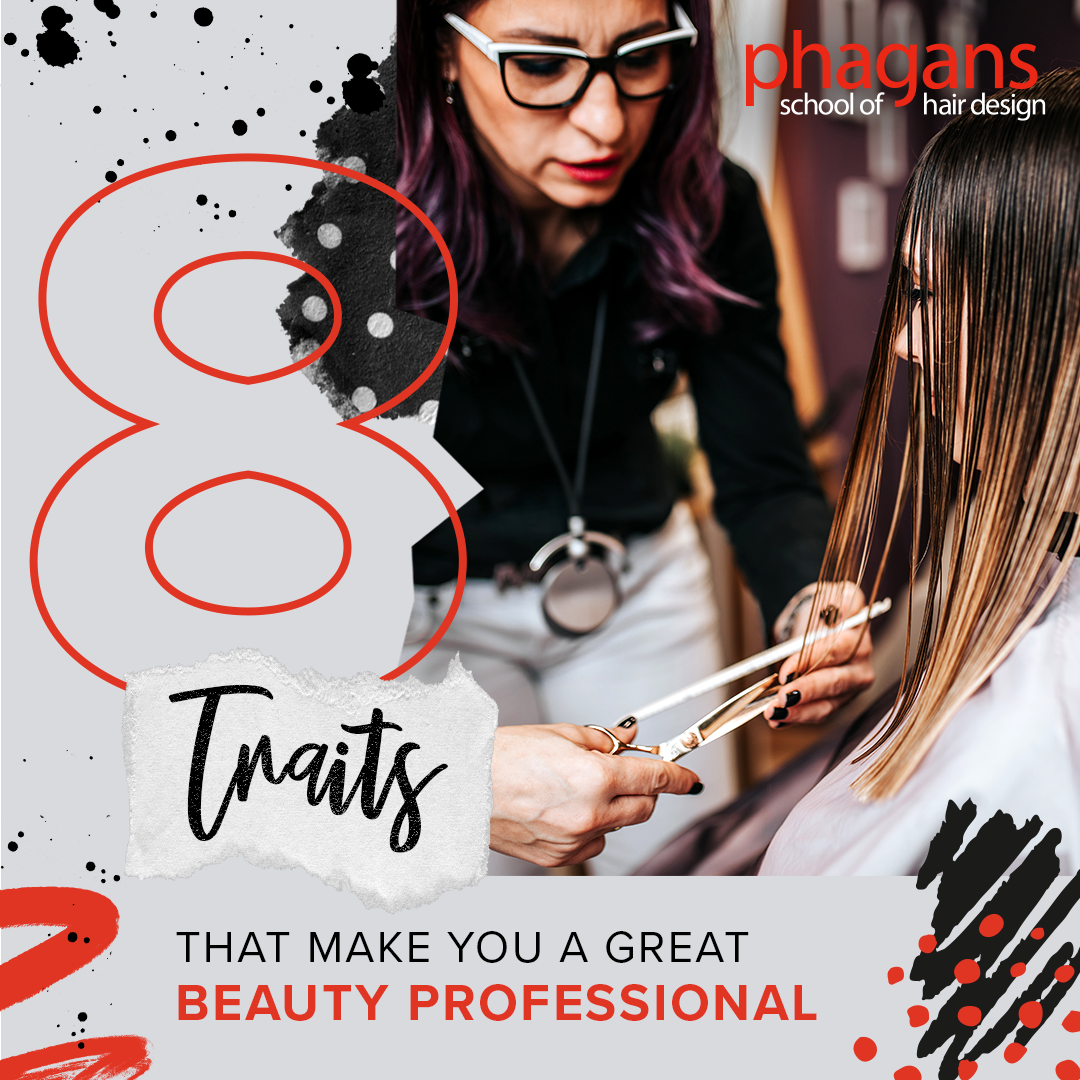 Becoming a successful beauty professional goes beyond mastering technical skills and acquiring industry knowledge. It requires a unique set of qualities that encompass both personal and professional attributes. Whether you aspire to be a hairstylist, makeup artist, or esthetician, developing these essential traits can not only enhance your career prospects but also allow you to make a lasting impact in the beauty industry. In this blog, we will explore the eight key traits that make you a great beauty professional and how cultivating these qualities can set you on the path to success.
Creativity
Creativity is the lifeblood of the beauty industry. Great beauty professionals possess a keen eye for aesthetics and the ability to think outside the box. They are trendsetters, constantly pushing boundaries and finding innovative ways to transform their clients' appearances. Whether it's designing unique hairstyles, creating stunning makeup looks, or providing personalized skincare treatments, a creative approach can set you apart and allows you to bring a fresh perspective to your craft.
Passion
Passion is the driving force that fuels success in any profession, and the beauty industry is no exception. Great beauty professionals are deeply passionate about their work, and this passion shines through in every interaction with their clients. It is what motivates them to continually learn, improve, and stay up-to-date with the latest trends and techniques. When you have a genuine love for what you do, it becomes evident in the service you provide.
Attention to Detail
Attention to detail is a trait that cannot be overlooked in the beauty profession. Great beauty professionals have a meticulous eye for precision and take pride in delivering flawless results. Whether it's ensuring a haircut is perfectly balanced, achieving a seamless makeup application, or providing meticulous skincare treatments, attention to detail is what sets you apart as a true professional.
Strong Communication Skills
Effective communication is paramount in building strong relationships with clients. Great beauty professionals possess excellent listening skills and the ability to understand and interpret their clients' desires. They are able to provide clear explanations of procedures, offer expert advice, and make their clients feel comfortable and understood. Excellent communication skills foster trust and create a positive client experience.
Adaptability
The beauty industry is constantly evolving, with new trends, techniques, and products emerging regularly. Great beauty professionals embrace change and have a willingness to adapt. They are open to learning new skills, staying updated with industry advancements, and adjusting their approaches to meet the ever-changing needs of their clients. Being adaptable allows you to thrive in a dynamic industry and positions you as a sought-after professional.
Professionalism
Professionalism is a hallmark of great beauty professionals. It encompasses traits such as punctuality, reliability, and maintaining a high level of ethics. Professionals in the beauty industry treat their clients and colleagues with respect, uphold the highest standards of hygiene and cleanliness, and adhere to professional codes of conduct. Professionalism builds trust, instills confidence, and sets the stage for a successful and respected career.
Empathy and Compassion
Empathy and compassion are essential qualities that elevate the beauty experience. Great beauty professionals understand that their clients may have personal insecurities or concerns, and they create a safe and nurturing environment where clients feel comfortable opening up. By listening attentively, beauty professionals can make a profound impact on their clients' well-being, helping them feel confident and beautiful inside and out.
Commitment to Continuous Learning
The beauty industry is ever-evolving, and great beauty professionals understand the importance of lifelong learning. They are committed to staying updated with the latest trends, techniques, and technologies through attending workshops, seminars, and advanced training programs. Continuous learning allows beauty professionals to expand their skill sets, offer new services, and provide their clients with the most current and innovative treatments.
Ready To Pursue Your Passions In Beauty?
By cultivating these essential qualities, you can elevate your skills and stand out as a sought-after beauty professional. Developing these traits can not only enhance your career prospects but also enable you to make a positive impact on the lives of your clients.
If you're ready to pursue your passions in beauty, contact us today! With programs in hair design, esthetics and more, we're confident you can find a program that fits your needs!