July 28, 2023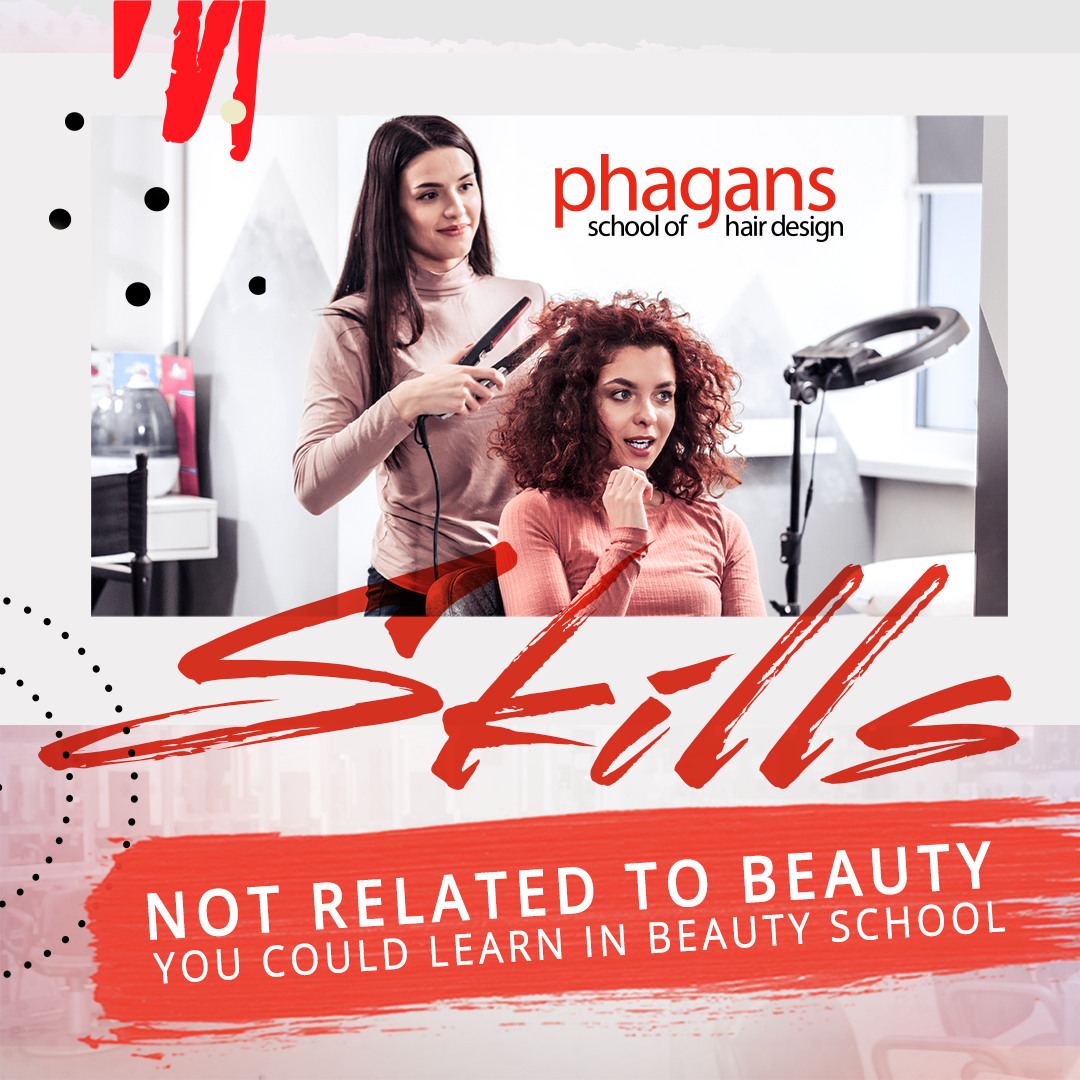 When most people think of beauty school, the first thing that usually comes to mind is hair, makeup, and skincare. While it's true that Phagans School of Hair Design excels in training future beauty professionals, there's more to beauty school than just mastering the art of beauty. Beyond the beauty skills needed to succeed in the industry, there are a lot of skills learned throughout the process that have far-reaching benefits in various aspects of life.
In this blog, we're going over the unexpected skills you can gain while going to Phagans School of Hair Design!
Communication And Interpersonal Skills
The beauty industry thrives on social engagement, making it more than just a job. It's an opportunity to connect deeply with clients and have a positive impact on their lives. Effectively communicating and understanding your client's needs is vital for success, as it creates a sense of trust that goes beyond a client and stylist relationship. In the beauty industry, the power of connection and genuine interactions can transform a routine salon visit into a more memorable experience that keeps the clients coming back for more.
Time Management
Time is of the essence in the beauty world! From managing appointments to handling multiple clients at once, beauty professionals need to hone their time management skills. Here are some specific ways to gain and enhance time management skills in the beauty industry:
Create a schedule: Knowing your schedule can help you manage your working hours, appointments, and other life commitments. Set specific days and times you're available to work and stay consistent with your schedule to avoid any mishaps!
Prioritize Appointments: Prioritize appointments based on the complexity of the service and allocate more time for them! If your client is in need of a more intricate hairstyle, adjust your schedule accordingly.
Utilize Appointment Software: Use appointment scheduling software or apps to manage bookings, send reminders to clients, and keep track of your daily schedule. This can help you stay organized and reduce the risk of double bookings.
Avoid Overbooking: Be mindful of your limitations and avoid overbooking yourself. Give yourself enough time between appointments to sanitize your tools, restock supplies, and recharge.
Set Realistic Timeframes: Develop a realistic understanding of how long each service should take. Avoid rushing through appointments to accommodate more clients, as this can compromise the quality of your work and lead to burnout.
Business Management
Part of our curriculum at Phagans is teaching you how to open your own salon. We want to expose our students to what life would be like after graduation, and that could mean running your own business! Whether you dream of creating a boutique hair studio or a luxurious spa, our goal is to empower you with the tools and confidence to turn your passion for beauty into a thriving and successful salon enterprise.
Stress Management
In the fast-paced world of beauty, stress can be a constant companion. But it doesn't have to rule your world. With the right techniques, you can cope with the pressure and turn challenging situations into opportunities for growth. This not only ensures better performance as a beauty professional but can greatly improve your overall well-being!
Customer Service
Great customer service is vital in any industry, but especially in beauty. Your customers are your business and learning outstanding customer service skills can lead to greater success in your career. It goes beyond quality service and involves creating a positive experience. Here are some key elements of good customer service in the beauty industry:
Professionalism: This means dressing appropriately, using polite language, and handling any issues with grace.
Personalization: Treat each client as an individual! No two services should be the same and base their service off of their own wants and needs.
Honesty And Transparency: Be honest about your skill set and what can be achieved realistically. Don't make promises you can't keep and if you're not confident in a service, say so!
Timeliness: Your client's time in the chair should be respected. Try to adhere to appointment schedules and minimize any wait times!
Appreciation And Gratitude: Express your gratitude to your clients. They chose to be in your chair and a simple thank you can go a long way in making them feel appreciated.
Continuous Improvement: Staying updated with the latest trends and techniques helps provide the best possible experience for your clients. It shows you want to provide the best service possible!
Creativity
It goes without saying that the beauty industry is a creative field. Being a beauty professional sometimes means thinking outside the box. From hairstyling and makeup artistry to innovative skincare treatments, embracing creativity is what sets exceptional beauty professionals apart. Whether it's crafting unique looks for clients or experimenting with new techniques, creativity fuels the passion and excitement that drive the beauty industry forward.
Ready To Become A Beauty Professional?
Beauty school is much more than meets the eye. Beyond the artistry of hairstyling and skincare, Phagans School of Hair Design offers students a diverse set of skills that go beyond the beauty industry. If you're ready to become a beauty professional, don't hesitate to contact us! We're more than happy to answer any questions you may have and are excited to help you pursue your dreams!