September 6, 2023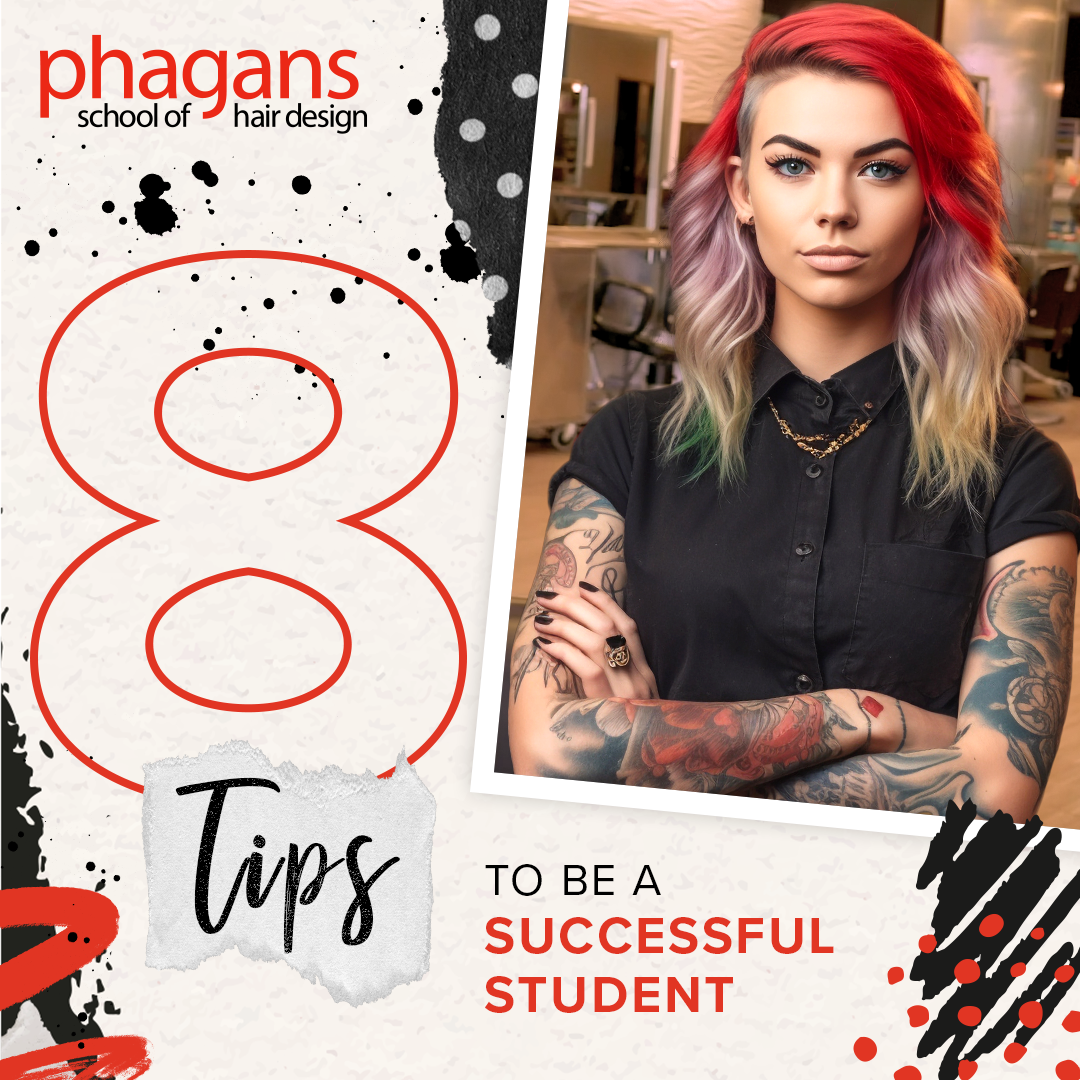 Pursuing a career as a beauty professional can be both exciting and challenging. As you step into the world of creativity and artistry, it's essential to equip yourself with the right mindset and strategies to excel in school. In this blog, we will explore eight essential tips that can help you become a successful student at Phagans School of Hair Design, setting you on the path to a career in the beauty industry.
Embrace Your Passion
Passion is the driving force behind success. To excel in any field, including the beauty world, it's crucial to have a genuine love for what you do. Embrace your passion for hairstyling, makeup, and all aspects of beauty. As you let your passion for the craft fuel everything you do, you'll find that the long hours of practice and hard work become a labor of love rather than a burden. When you are truly passionate about something, it becomes easier to stay motivated and dedicated, even when faced with challenges.
Stay Organized
Organizational skills are vital for managing your time effectively and staying on top of your coursework. Creating a well-structured routine can help you balance your personal life with the demands of your education.
Here are some tips to help you stay organized. By incorporating these organizational strategies into your routine, you can be better equipped to manage your time effectively, stay on top of your coursework, and excel in beauty school.
Use a planner or digital calendar to keep track of class schedules, assignments, and important dates.
Create a daily or weekly study schedule to allocate your time wisely.
Set reminders or alarms on your phone for important deadlines and upcoming exams or projects.
Keep your workspace tidy and clutter-free to minimize distractions during study sessions.
Make use of checklists to keep track of completed assignments and tasks, ensuring nothing gets overlooked.
Develop a system for storing and organizing your beauty tools and products to quickly access them when needed.
Regularly declutter and purge unnecessary items to maintain an organized and efficient learning environment.
Set Clear Goals
Establishing clear and achievable goals is essential for staying focused and motivated throughout your educational journey. Break down your long-term objectives into smaller, manageable milestones. Celebrate your accomplishments along the way, and use any setbacks as learning opportunities to grow.
Be Present and Engaged
Being fully present and engaged during your time at Phagans School of Hair Design is a crucial aspect of maximizing your learning experience and personal growth. When you actively participate in classes, it goes beyond merely being physically present; it involves immersing yourself mentally and emotionally in the learning process. Here's why being present and engaged is so important and how it benefits you as a student:
Absorb Information Effectively
Clarify Doubts
Develop Critical Thinking
Demonstrate Dedication
Gain Valuable Feedback
Foster a Positive Learning Experience
Seek Support and Guidance
Don't be afraid to ask for help when you need it. Your instructors and classmates are valuable resources that can assist you in overcoming challenges and refining your skills. Whether you need clarification on a concept or want feedback on a project, seeking support and guidance will contribute to your growth as a successful student.
Embrace Feedback
Constructive criticism is an essential aspect of personal and professional growth, especially for hair design students at Phagans School of Hair Design. Feedback from instructors and peers offers a fresh perspective on your work. As an artist, it's easy to become attached to your creations, making it challenging to see potential areas for improvement. Constructive criticism provides valuable insights that you might have missed, allowing you to refine your craft.
Network and Collaborate
Networking plays a pivotal role in establishing a successful and fulfilling career in the beauty industry. It goes beyond mere socializing; it's about building meaningful connections and leveraging them to create opportunities for personal and professional growth. Here's why networking is crucial:
Expand Your Support System: Networking allows you to connect with a diverse group of individuals, including your classmates, instructors, alumni, and industry professionals. Building a strong support system within the beauty community can provide valuable guidance, encouragement, and advice throughout your career.
Discover New Perspectives: Engaging with a variety of people in the beauty industry exposes you to different perspectives and approaches. This diversity of thought can inspire fresh ideas and spark creativity, enhancing your skills and making you a well-rounded beauty professional.
Learn from Others: Networking provides a unique opportunity to learn from the experiences of those who have walked similar paths. Seasoned professionals and alumni can share their insights, successes, and challenges, giving you valuable lessons that can guide your own journey.
Access Hidden Opportunities: Often, job opportunities, internships, or collaborative projects are not advertised publicly. They may come through word-of-mouth or personal connections. By networking, you increase your chances of stumbling upon these hidden opportunities.
Stay Positive and Persistent
Success rarely comes without obstacles, but maintaining a positive attitude and persevering through challenges can make all the difference. Believe in yourself and your abilities, even when faced with setbacks. Remember that every mistake is an opportunity to learn and grow, and that every step you take brings you closer to your goals.
Ready To Get Started?
Becoming a successful student at Phagans School of Hair Design is not just about acquiring technical skills; it's about so much more! By following these eight essential tips, you can not only excel in your studies but also set the foundation for a flourishing career in the beauty industry. If you're ready to get started on your beauty school journey, don't hesitate to contact us! We're more than happy to help with any questions you may have. We look forward to helping you achieve your dreams!