January 2, 2015
New Year's resolutions can feel like little more than exercises in futility. Before you know it, you've broken your diet, quit saving money, or continued fighting with your obnoxious sibling. Beauty resolutions, though, don't require you to give anything up. If you're looking for an easy-to-keep resolution that will improve your appearance and make life just a bit easier this year, try one of these beauty resolutions.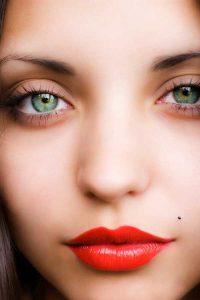 Try Dark Lips
Two generations ago, putting on lipstick was a female rite of passage. Lipstick tubes came in glorious designs, with compacts to match. Today, though, many women eschew lipstick altogether. Lip color is quickly coming back into vogue, though, and you may be surprised to see how much a pop of color can add to your look. Resolve to try dark lips at least once a week until you find your perfect color.
Get a New Hairstyle
If you've been clinging to your old haircut – or even worse, sticking with a style that's not really a style at all – for longer than you can remember, the new year is a perfect chance to change that. A good hairstyle completes your look, makes it easier to get ready in the morning, and can even make you look younger and thinner. Resolve to work with your stylist to find a cut you truly love. And consider donating your old strands to Locks of Love so that you can help cancer patients in the process.
Master a New Makeup Look
Trying new makeup can be scary, particularly when you're rushing to fix a smoky eye-related catastrophe or trying to remedy the disastrous streaks your gel blush left on your face. This year, commit to learning how to do a new makeup look, whether it's contouring or smoky eyes. You can get help at Phagans as our students are happy to share their newly learned techniques. Practice the look when you're not going out. Then prepare to wow your admirers when it matters most!
Streamline Your Skincare Routine
If you're like most women, your bathroom cabinet is filled with potions and creams you never use. It's time to put all the money you've spent on skincare products to work, though. It's time to begin a skincare routine that works for your skin and your schedule. At minimum, your weekly skincare regimen should include exfoliation, and your nightly skin care routine should include washing your face and treating your skin with a good moisturizer. Try products till you find something that works, then commit to a healthy skincare routine for the rest of the year.
Ditch the Worthless Products
Why are you still hanging onto the blush that's older than you and the eye cream that gave you a horrible rash? Get rid of anything you haven't used in six months. If it's unused, consider donating it to your local domestic violence shelter, or having a product swap with your gal pals. When you clear out the old stuff, you create room for the new, not to mention an excuse to buy that gorgeous lipstick you've had your eye on.