October 10, 2014
As the leaves begin to fall and crisp nights turn distinctly chilly and rainy, it's easy to resign yourself to hibernation. Fall is the perfect time to try a new hair color, though, particularly since the sun is less likely to bleach your hair and undermine your fabulous new hue. Don't give up on looking amazing just because it's getting dreary! Check out these must-have autumn trends and shake up your everyday look!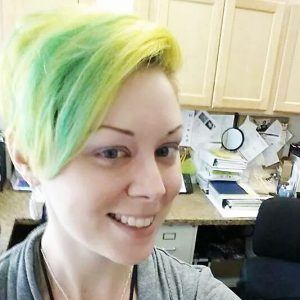 Go Neon (Yes, Neon!)
Neon hair was all the rage on Fall runways, and celebrities such as Katy Perry and Nicole Richie eagerly jumping on the bandwagon. Neon pink, blue, and green are must-haves for the truly daring. For a slightly more subdued look, some hair trend-setters are trying Easter egg hues instead.
How to master the look? This is definitely one you're going to want help with. Most hues require bleaching your hair first; otherwise the color will quickly fade. If you need to keep your look understated, capitalize on the trend by adding a few neon chunks, or even coloring the underside of your hair for a pop of color when you wear it up. For the most dramatic look, though, try coloring your entire mane.
Still not sure about the look? Temporary chalk dyes let you test it out at home without the commitment. Try adding a few streaks for the weekend.
Add Some Dimension
Sick of boring lowlights and highlights? Over the ombre hair trend? Try dimensional color. This approach to hair color blends numerous colors into your mane, adding layers of dimension and ensuring your hair looks different depending on the lighting and angle. The roots are usually a bit darker, with lighter pieces at the ends and underneath. This style requires masterful color skills, so consult your Phagans colorist; don't try it at home!
Choose the Right Red
Red never goes out of style, but this season, celebrities are going for a dramatic rose gold hue. With undertones of pink and gold, this shade of red is flattering on virtually every skin tone, and serves as a perfect complement to the rust-colored leaves of fall. To make your hair look fuller, try asking your colorist to add a few highlights and lowlights. Already got a mane full of thick hair? Go for monochromatic red for a sexy and dramatic look.
One-Dimensional Color
For decades, women have spent endless hours adding highlights and lowlights in an effort to leave their color looking natural. This season, though, the biggest names in fashion are giving up that fight and going monochromatic. To capitalize on this trend, try a rich platinum blond, a single-toned chocolate brown, or even auburn. This look is ideal for the fashionista on a budget, since it's easy to get your hair to be all one color with a simple home dye job.
The change of seasons is all about experimentation. Spend a little time on your hair now, and as nights get darker and the weather turns dreary, you'll have a ready-made source of joy atop your head.
During the month of October visit Phagans and get 25% off fashion hair colors.