August 15, 2014
For some, back-to-school marks a return to cherished friendships and a place at the top of the school pecking order. For others, returning to school is a miserable departure from the freedom and leisure of summer. No matter how you feel about going back to school, though, one thing rings true: like it or not, fashion matters at school. If you wear clothes that make you feel good about yourself, you'll be more comfortable in your own skin and – with a little luck – you might just gain a reputation as the go-to person for style advice.
Back-to-School Makeup
When you're rushing out the door first thing in the morning, you don't have time for endless makeup. To maximize your beauty and your sleep, check out these super-easy tips:
Replace your foundation with CC or BB cream, which allows for more mistakes and therefore requires less time.
Throw on one of fall's trendy eyeshadow shades – burnt sienna, dark blue, or rich pink – for instant drama.
Highlight your pout with an orange-hued red lipstick. For a more muted look, select a gloss. Red puckers are in for fall.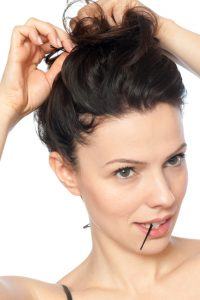 School-Ready Hair
Sure, you want your hair to look awesome at school, but you also want to have time to enjoy your life. Never fear! You really can have both, with these super easy looks:
Try a smoothing treatment. Available at Phagans School of Hair Design retail locations, these treatments leave your hair straight and frizz-free for up to seven days – even when you wash it!
For ethereal, boho-inspired glamor, braid small sections of your hair.
Smooth, sleek topknots are back for Fall, and great for wetter climates such as ours. Slick your hair back, using gel or mousse to hold it in place, then fasten it to the crown of your head in a large bun.
Ready for all-out sexiness? Get surfer-inspired waves by spritzing your hair with a texturizing spray, then scrunching it together. Use a curling iron on one-inch sections of hair, leaving the ends loose for a lovely but undone look.
Transitional Pieces
Back-to-school isn't just the beginning of another year of endless homework and jockeying to raise your social standing. It's also the beginning of the transition to Fall, and what's comfortable during a rainy morning might leave you miserable when the sun comes out and the temperatures soar. Stock up on these can't-miss pieces and you'll be comfortable no matter what the weather does:
Dresses with ¾ sleeves in Fall's trendiest colors – rich blue, rusty orange, and animal prints.
A classic trench coat. This season's coats are longer and looser-fitting, making them gorgeous on virtually every body type.
A bevy of patterned and brightly colored tights will keep your legs warm. And if it gets too hot, just slip into the bathroom and take them off.
A jean jacket. Dark denim is always in, but for a truly fashion-forward look, try colored denim or white.
Must-Have Trends
After three months spent in bathing suits and sun dresses, you might have forgotten what it feels like to pick out an outfit everyday – and you might be clueless about what everyone will be wearing when you walk into the classroom. If you want to stay on-trend as summer ends, invest in a few key pieces:
Printed, boxy tops. Bonus points for crop tops, which look positively demure when paired with a high-waisted skirt.
Statement jewelry. Statement necklaces embellished with jewels are big, but the trend has expanded to include charm necklaces and chokers with big focal points.
Leopard and cheetah print everything. Animal prints – even clashing ones! – were all over the runways this year.
Body-skimming dresses. Ditch the form-fitting pieces for something lighter and flowier that glides over, rather than clinging to, your curves.
All-over lace. Lace is on everything this season. From dresses to sweaters and even shoes, showcase your feminine side by adding some lace wherever you can.
The Best School Supplies
You might not be thrilled about cracking the books, but you can still look cute while doing it. Make studying fun by trading out your boring school supplies for these awesome options:
Ditch the backpack and replace it with a cool, sleek satchel in a bright color.
Ditch your lined notebooks and try a plain Moleskine book instead. Then decorate it with stickers, photos, or paints.
Make your locker into a site of interest and intrigue by investing in brightly colored hooks, oddly shaped mirrors, and a bright and cheery dry erase board.
Stay organized with cute pouches. Don't just stick to the classic pencil case. Get a pouch for everything so you can find your stuff in no time at all – and look cute doing it.
You might not be thrilled to go back to school, but you will be thrilled with your look if you invest a little time before you take the plunge. There's no replacement for confidence and a smile, though, so don't be afraid to pat yourself on the back and throw on a smile. You've got this.