April 4, 2014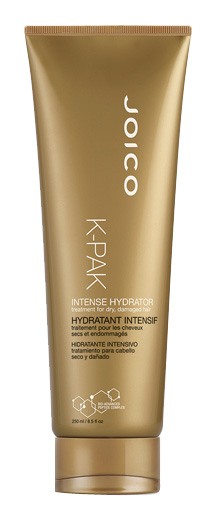 Picture the perfect mane of hair. Odds are good it doesn't include split ends, flyaways, and a dull, lifeless appearance. But the products you use to style your hair everyday – blow driers, curling irons, and painful sessions with straightening irons – are likely to yield precisely this look. Enter Joico's K-Pak Intense Hydrator. This hair treatment returns your hair to gorgeous and flowing with almost no effort.
What It Is
K-Pak Intense Hydrator is a deep conditioning treatment that you can use right after shampooing in place of – or as a supplement to – your normal conditioner. Leave the product on for three to five minutes, and for even better results, cover your hair with a shower cap to allow the product to deeply penetrate your hair shaft. You'll begin seeing results on fried and extremely damaged hair with the first treatment.
How It Works
Joico has a long and storied reputation as a creator of hype-free products that work, and K-Pak Intense Hydrator is no exception. Beauty bloggers are abuzz with the great results they've seen, and review sites give the product stellar reviews. The product is thick, making it a good choice for people with dry, unruly hair, so users who have fine or oily hair may want to limit their use to once a week or so. It's safe to use every day, so if your hair needs all the help it can get, K-Pak Intense Hydrator may be your new best friend.
Many users report that their hair not only became softer and healthier; it also became more manageable. The secret here is that Joico's conditioning ingredients help seal the hair shaft, making your hair less susceptible to frizz-inducing humidity.
Pick up a bottle for 20% off during the month of April at Phagans School of Hair Design.