April 2, 2014
Preparing for prom can quickly become a full-time job, as you dash from dress stores to limousine rental businesses while simultaneously developing long and detailed itineraries. The real key to a successful prom is to do what makes you feel happy and comfortable rather than trying to live up to someone else's expectations. For the most fashion-forward prom look, find ways to incorporate the following trends into your 2014 prom look.
During the month of April, Phagans is offering two prom specials:
– $35 CROWN Prom Package: Includes updo, express manicure, makeup with lashes.
– $22 TIARA Prom Package: Includes updo, polish change and makeup.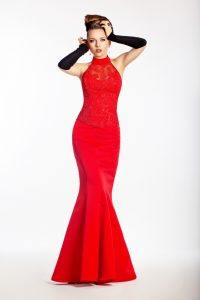 Long Ballgowns
With each passing year, prom dresses get more dramatic. This year, long ballgowns are in, and the hi-low dress has finally made an appearance in formal fashions. Since prom weather can be unpredictable, a long dress will keep your legs warm and make it possible to wear tights that will keep your feet from freezing. Choose light, flowing fabrics such as chiffon rather than heavy, stuffy materials such as velvet. You'll probably get hot as you dance the night away, and the last thing you want is your dress sticking to you.
Loose and Flowing Hair
Gone are the days when prom meant you had to spend all day getting a perfect updo. Today's prom fashions are distinctly less stuffy. Wear your hair down and loose, and accent the look with a dramatic hair fascinator or an understated jewel-embellished comb. Beach waves are big this year, so focus on getting a slightly undone look rather than making each curl perfectly uniform.
Spring Makeup
Gone are the grays and blacks of winter makeup. Instead, this spring is all about light, bright, eye-popping colors. For the most elegant look, try a pop of green or blue eyeliner embellished with smoky blue eyes. If you're not ready to switch from your cherished brown and black eye makeup, pay homage to the trend by lightening up your color choices just a smidge. Devotees of black eyeliner can try charcoal gray, while lovers of brown liner look ravishing in navy blue.
Dramatic Heels
If you dread dancing on unsupportive shoes, you're in luck. This year's prom shoes are bigger and more substantial than the strappy sandals of years past. Platform and chunky heels are the most popular options, so pick the shoe style that's most comfortable for you. For an added fashion flair, select sequined shoes or shoes embellished with gemstones or acrylic flowers.
Statement Jewelry
The jewelry trends for prom 2014 are distinct and bold. Statement necklaces, jewel-tones, and shoulder-grazing earrings are all big. Select one statement piece around which to build your jewelry wardrobe, then opt for a few smaller pieces. Pairing a statement necklace with understated pearl earrings will leave you looking fabulous, but big earrings, big bracelets, and overpower necklaces will make you look like your jewelry is wearing you.  
The Right Colors
One of the easiest ways to update your wardrobe is to wear something classic, but in a trendy color. This season, aquamarine and emerald green are big. Prefer something a little more feminine? Pantone recently anointed radiant orchid – a rich, purply pink hue – its color of the year. For the most dramatic flair, choose a monochromatic dress in one of these trendy tones. If that's a bit too much for you, select jewelry in the color of the moment.
Most importantly, select the trends that work for you, rather than forcing yourself into trends you loathe. Pick the one or two trends you love the most, then leave the others in the dust. True fashionistas are comfortable in their own skin, and if you wear something that's  not you, your discomfort will be unmistakable.