January 8, 2014
For women, sporting a new hairstyle or cut is more than a change in appearance; it is a rejuvenating and liberating experience. That is why it usually precedes new beginnings, like a new year. This New Year of 2014, like 2013, has short hairstyles still going strong with a fun and carefree edge to them. There is something for everyone, even if you do not have the time to pay a lot of attention to your hair.
Shag: This year the bob takes on an altogether more dynamic look that has been termed the shag. This is a layered, messy but stylish bob that is trending among top celebrities. Even Beyonce is seen sporting this look in a few of her new videos. This modern version of the classic bob shag is best worn by applying plenty of wave inducing products. You can go with straight edges that have a more relaxed, messy look or straight blunt edges. This looks best on a woman with a defined straight jaw line and a defined neck line. This will work with most all types of hair including thick, wavy, thin and wispy. Those with very curly hair be warned, you can easily end up with a puffy look that is not quite desirable.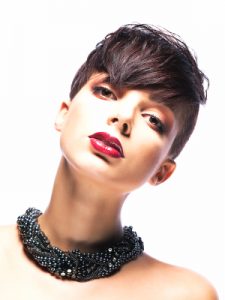 Pompadour: The pompadour or quiff is also still trending strong. This hairstyle is nothing more than a short look with a quiff. Sported by young women, this is a strong look for a strong lady. This is fast becoming a favorite look for many. Very much fun this year, thanks to the return of grunge, it can go as far as having shaved sides and a Mohawk on top, or a simple pixie with a quiff top. Its flexibility and easy installation keeps it in the line-up for hairstyle choices. Combined with attention-getting hair colors, there is great eye-catching appeal of this style. Female celebrities such as Miley Cyrus have gotten a lot of attention and show no intention of letting it go. The variations that are possible with the quiff or pompadour hairstyle are appealing to a lot of style-conscious people who like to keep with the trends, while maintaining some creative flexibility with their hair.
Punk Pixie: The punk styled pixie is giving the other hairstyles stiff competition. A traditional pixie is timeless, but this year it has been spiced up with a more fun, laid-back, choppy look. To get the cute the hair should be really short around the neck and softly tapered using a razor to get a stylish look. With this short hairstyle you can rock fun colors and highlights and look great. It is best suited on women who have a heart shaped, oval or square facial structure, and performs best in thick and wavy hair. The cut looks adorable with accessories such as bowls and girly clips. A little something to really make your style shine.
Whatever your style, get a liberating and refreshing look this year. Make a statement and lasting impression on people. Just be sure to choose one that best compliments your features. Dress it up with confidence and step out in style.
If you have any concerns or doubts feel free to ask a student or salon professional at Phagans.