July 18, 2013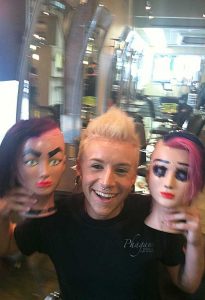 Why did you decide to go to beauty school?
I didn't know what I wanted to do in high school. I had no idea that I would end up going to beauty school, but I knew that I was really passionate about beauty and the ability to change your appearance.
How did you end up at Phagans?
I was always on the web and looking at beautiful people. This made me realize that so many of them were hairdressers. I remember the exact moment at the gym and I was looking on the web and realized this was what I was passionate about. When I was young, I loved being in my mom's makeup and doing her hair and it took me a while to connect all the dots.
Why did you choose Phagans?
Honestly, I Googled beauty schools and Phagans came up. I called, came in, signed up and knew this was the right place for me. I felt very welcomed.
What do you like about beauty school?
I love that I can see a change in clients when I'm finished with their service and the sense of self-confidence when they leave. I'm a people-pleaser and so this is the perfect industry for me and I love it when they come back to me.
What advice would you give to someone thinking about going to beauty school?
Do what makes you happy. Stay focused on what you're here for; be open for change and have fun.