December 6, 2012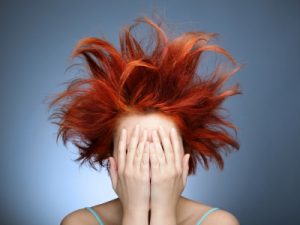 December is a month of holidays and that means parties, get-togethers, and celebrations aplenty. Whether you're enjoying Christmas, Hanukah, Kwanza, Winter Solstice, or New Year's, we've got a selection of looks that will have you shining throughout the season.
Hot Buns
This season, amp up the simple bun by accessorizing. For a formal look, start with a center part, hair smoothed flat. Use hair gel for all-night hold and to keep your bun looking sleek. Collect hair into a tight bun just above the nape of your neck and secure with pins. Add a sparkly sequined or jeweled headband just behind the ears for a festive touch.
Want to go a little wilder with your bun? Use mousse or a root booster then tease hair for extra volume. Pull hair into a bun and secure. The addition of a sleek headband at the front creates a chic pouf that will turn heads.
Top knot
What if you like a bun, but want to elevate the style with some funk? Take the humble bun to new heights by creating a knot at the top of your head. This modern twist on the bun can go casual or glamorous by simply leaving is looser or pulling it smooth. Once you've secured the knot, use a strong hairspray all over to create touchable, all-night hold.
Wind-blown waves
When the blustery season calls for something a little more relaxed, opt for the look of wind-blown waves in your hair. Begin by curling the lower half of your hair (everything below cheek bones) with a curling iron held vertically. Then comb through loosely with styling cream to keep a soft, natural hold. This hair style is great for achieving the laidback and cool look that reverberates through Portland.
Shiny style
During the holidays, everything shines just a little bit more, so why shouldn't your hair? Create a style that glows by using a shine enhancer to smooth flyaways and catch the light. This look works best with straight hair that has been smoothed with a flat iron or corkscrewed with a curling iron, but also looks great on curly hair that has been straightened.
Glamorous braids
Whimsical braids are not just for summer. This style can be dressed up for winter holiday celebrations as well. This season, go for a relaxed look by twisting a French or fishtail braid over your shoulder. Then use your fingers to "undo" the 'do just a bit, creating a relaxed, romantic look. Using a dry shampoo on your hair before braiding will add texture and hold to your hair. Secure the end with a band that matches your hair color or one that adds a little shimmer to your look.
Each of these hair styles is easy to create on your own at home with just a few simple tools of the trade. Stop by Phagans retail locations to get the hair care products you need at a 15% discount through the month of December. With do-it-yourself glamour and product savings, you'll have plenty left in your wallet for gifts, goodies, and maybe even a treat for yourself.