October 14, 2012
Is your hair frizzy and dry from heat styling with dryers, curling irons, or flat irons? Has bleaching, coloring, and highlighting left your hair damaged? Do you wish there was a magic wand you could wave to return your hair to it's healthiest state?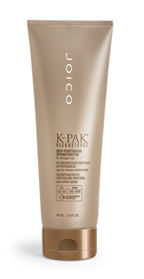 Well, Joico K-Pak Deep Penetrating Reconstructor is no magic wand, but it is about as close as you can get. K-Pak Reconstructor results in an almost immediately noticeable difference in strength, texture and appearance for dry, damaged hair because it contains more Quadramine Complex than any other product in the Joico family. Its thick texture and fruity (bananas!) scent are pleasant to work with.
For best results, use this leave-in conditioning treatment a couple of times a week. You apply the conditioner and let it penetrate your hair for a minimum of five minutes before rinsing. If your hair is badly damaged, you can leave the conditioner on your hair, then blow dry and style as usual.
Joico K-Pak seals the cuticle, improves manageability, and maximizes shine, leaving your hair silky, shiny, and smooth. This hydrating treatment will repair your hair without weighing it down. It works wonders for dry ends between cuts or as you grow out a hairstyle.
Don't wait another day to repair your hair with Joico's K-Pak Reconstructor. Throughout the month of October, you can save 10% on the K-Pak Reconstructor at Phagans.