June 3, 2012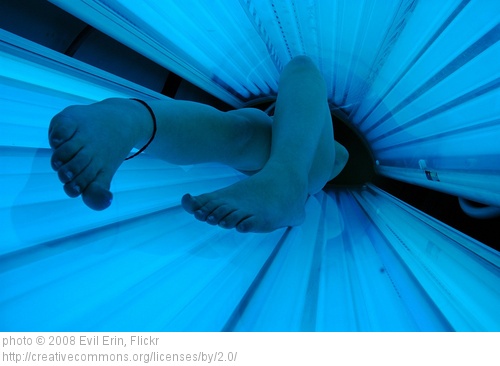 Study after study reveals the close tie between use of tanning beds and increased of skin cancer. Regardless of this direct link, nearly 1 million people a day bake their skin under an indoor tanning lamp, and since 1992, revenue in this industry has increased 5 fold to more than $5 billion. With summer on the way, here are just a few reasons to avoid getting that "healthy" glow at the tanning bed.
Risk of melanoma (malignant skin cancer) increases by 75 percent if you're exposed to tanning beds before the age of 35.
Even moderate tanning causes the same long-term skin damage as a sunburn, increasing your risk of skin cancer and premature skin aging, and damaging your immune system.
The risk of melanoma increases by 300% for those using tanning beds occasionally and by 800% for those using tanning beds more than 10 times a year.
Traditional tanning beds and sun lamps give off about three times more UVA rays (the ones that penetrate deeper into your skin) than are emitted by the sun.
Both the American Medical Association (ADA) and the American Academy of Dermatology (AAD) are fighting to ban the non-medical use of tanning equipment.
The Centers for Disease Control report that tanning beds also cause serious eye problems including conjunctivitis, corneal infections and retinal damage.
The FDA estimates that about 38,000 people are diagnosed with melanoma annually and more than 7,000 die from the condition.
If you must worship the sun this summer, be sure to use a safe sunscreen with an SPF of 25 or higher. New regulations on sunscreen packaging go into effect this month and should help you make the right choice for your skin protection.
Having a hard time facing a summer without sunkissed cheeks or nutbrown legs? Go for a tanning illusion – use a little bronzer on your face and some self tanning cream on your legs and arms. During the month of June, you can save on self tanners and body lotion with Phagans' buy one, get one half off special.