June 1, 2012
Born in Las Vegas, Nevada, Tyler Colton was exposed early in his life to the glitz, glamour, and over-the-top creativity that abounds in Sin City. He nurtured his own talents and creativity, ultimately traveling to Paris to study. Later he lived in Australia and New York City, absorbing the multicultural vibes of these cosmopolitan areas. Today, Colton continues his international lifestyle as he shares his unique approach to hairstyling that blends clean and simple glamour with an aggressive edge.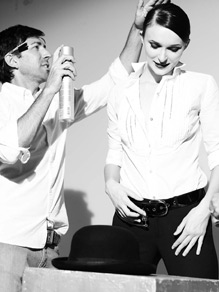 Throughout his career, Colton has become known as one of the most sought after stylists in Hollywood. He has worked with A-list celebrities in film, fashion, television, and music, using his signature style to make each actor, musician, and model look modern and glamorous. He has styled actors and musicians including Christian Bale, Charlize Theron, Summer Glau, John Goodman, Katharine McPhee, Sarah McLachlan, and Avril Lavigne. He has styled for countless magazine covers, editorials, films, music videos, ads, and commercials, in addition to appearing on air personally as a guest commentator.  Colton also works with private clients from Pomp Studio in West Hollywood.
When he is not working with celebrities or private clients, Colton travels internationally as a beauty expert and speaker. "By looking at the past, we can create a foundation for the future," said Colton. "We can see how the past influences the trends of today." Whether you are looking to learn to style sexy Victoria's Secret hair or a glamorous updo, a cutting edge Lady Gaga-inspired look or a romantic, vintage upsweep, Colton knows the tricks of the trade. He breaks down the styles step-by-step so you can recreate these celebrity looks for your clients.