May 2, 2012
With the school year winding down, we are finally heading into the most fun event of the season – prom! Whether you're going with a dreamy date or with a bevy of your besties, there is no reason to stress over looking good. Follow this three-step guide to easily show off your style at the 2012 prom.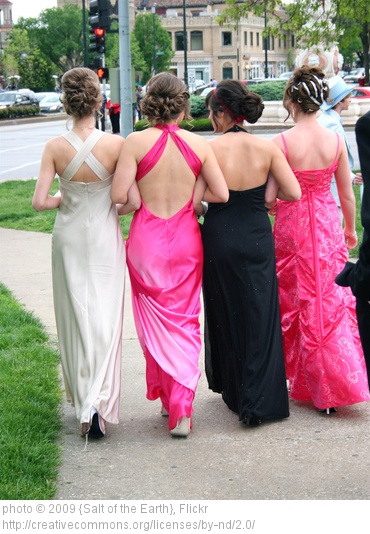 Step 1: The Prom Dress
No matter what your style, you'll be able to find a great, on-trend dress that shouts "party." Hot strapless looks for 2012 are inspired by Hollywood hits like Bridesmaids. That group of funny women looked great baring their bridal shoulders and you can pump up that look for prom.
Want a little more coverage? Go long and glamorous. Whether the skirt is long and full or mermaid style, a long dress can let you dance the night away in style. For something a little edgier, try a skirt that is short in front and long in back. It will give you room to move and make a statement about your fashion sense.
If you're going all out, you can make your own dress like Maura Pozek, a Missouri senior who has made her prom dress for the past three years. The difference is her dresses are made of found objects. Sophomore year, she used Doritos bags. For Junior prom, her dress was constructed of thousands of soda can tabs. This year's creation was cardboard. It just goes to show that you can express yourself any way you'd like at your prom.
Step 2: The Look
Once you've found the dress of your dreams, you can finish off your look with just the right hair and makeup. Depending on the neckline of your dress, you might want a sophisticated up-do to complete your look. A side-swept braid cascading over one shoulder, a la Katniss Everdeen, can give you that relaxed, yet put together look and will stay in place throughout the night. With a strapless dress, long glamorous locks will caress your shoulders and look hot.
For makeup, it is fun to have a professional application for a special occasion. Whether you're treating yourself to some spa time or doing your own makeup, be sure to choose one feature to highlight. If you are focusing on a bright lip, keep the eyes neutral. Or if you want a really smoky eye, keep the cheeks and lips dewy and soft.
Step 3: Accessories
Most women love a great pump and some bling for a night out. When it comes to prom, you've got to keep the full expanse of the evening in mind when choosing your accessories. Even if you can walk in your 4-inch heels, you may want to select something a little shorter and more stable if you plan on dancing well into the night.
When it comes to other accessories, pick one super piece that you just love. It could be a great pair of earrings, a super sparkly necklace, or a ring that makes a statement. Remember you might have a corsage on your wrist, so you might want to avoid a bracelet. No matter what you chose, take along a small clutch to carry your necessities – phone, lipstick, or extra cash.
Follow these three easy steps and you'll be showing your own personal style at prom this spring.
Want to treat yourself before the big event? Indulge in one of the prom packages at Phagans. With the Crown Prom Package, you can get an up-do, polish change and makeup with lashes for only $35.00. Want to do your own makeup? Then the Tiara Prom Package with an up-do and a polish change for $25.00 is for you. Call the Phagans near you today to schedule your appointment.