February 29, 2012
If you're an eco-conscious consumer, you strive to keep your body healthy and "green" on the inside and out. For environmentally friendly shoppers who also want the highest quality available, there is an answer – Hempz.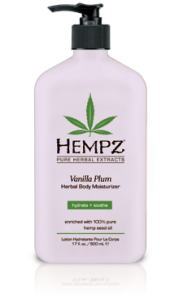 Hempz Body Care line is made with pure, organic hemp seed oil. Hemp oil is filled with some of nature's richest sources of nutrients and vitamins that protect and condition the skin. Rich in Vitamins E, C, B1, B2, B3 and B6, hemp is one of the best sources of Essential Fatty Acids (EFAs), with a perfect 3:1 ratio of Omega-3 and Omega-6 Linoleic Acids, and contains 9 Key Amino Acids. All of this means that Hempz products are made to pamper your skin with natural, organic materials that help condition, moisturize, and help prevent fine lines.
Hempz has recently launched a new line of herbal body moisturizers that are designed for soothing every inch of your skin. Their focus is on all-over hydration and nourishment that helps improve the overall health and condition of skin.
The Herbal Body Moisturizers all include shea butter, ginseng and natural extracts to help calm, soothe and condition skin, as well as vitamins A, C and E to help protect skin. Each moisturizer is paraben-free, gluten-free, THC drug-free, and 100% vegan.
Take your pick of three different fragrances:
Citrus Blossom: Citrus extracts help prevent free radical damage to renew and revive skins healthy radiance.
Vanilla Plum: Plum Oil has natural properties that help soothe skin leaving it feeling soft, smooth and supple.
Pomegranate: Pomegranate Extract contains high levels of antioxidants that help prevent free radicals and renew skin's healthy radiance.
During the month of March, save 25% when you purchase Hempz at either Phagans location in Portland. Sign up for our newsletter (at the top of the page) to have these deals delivered to your inbox every month.