January 3, 2012
2012 may be the end of the world as we know it, but you'll look fine when you find just the right hairstyle trend to fit your personality. In Portland, whether your hipster or high school student, supermodel or suburbanite, there is a hairstyle for you that's on trend this year. Read on to find your best fit.
Long Hair is Hot
Women with long locks have lots of options in 2012, but many of these looks can be adapted for shorter styles as well.
The Wave: Beachy waves, popular in the summer, have evolved with the seasons. This winter, this do-it-yourself style is easy to maintain. Think soft and loose homemade curls and finger-combed styling. This look couldn't be easier or more hot. All you need is a great base cut and you're good to go.
Sleek and Shiny: Slicking back your hair in a natural looking way helps achieve the sleek, shiny look that's been popping up on runways this season. While Portland's rain could help you achieve the look, a nice glossy product can ensure that your look hangs on through the night. Talk to your stylist about the product that's right for your hair.
Ever-popular Pony: Pony tails are back. This season they can be high, mid or low, tied with a twist, a barrette, or pulled back with multiple bands. To get the most snap for your style, combine the pony trend with the shiny trend and watch heads turn.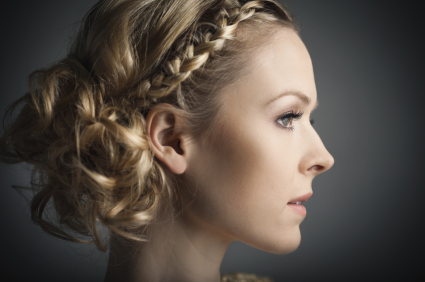 Sophisticated Braids: Whether they are long and loose or twisted into an up do, braids are better than ever for 2012. Have your stylist develop an intricate braid for your next night out or a twist your hair into a casual, yet sophisticated side plait a la Katniss Everdeen in the upcoming Hunger Games movie.
Accessorize and Embellish: When you're planning a night on the town, wear your favorite up do, but jazz it up with some accessories. Hair pins, clips, hair jewels, and feathers all work to add sparkle and interest to your look. Think of these embellishments as the simpler cousin of the fascinator.
Short Bangs: Inspired by famous pinup Bettie Page, the short fringe look is back for 2012. In the past few years we seen this look reinvented by Amy Winehouse in a side swipe version and by Katy Perry in blue. In the coming year we'll see it on screen in an edgier evolution on Rooney Mara's Lisbeth Salander in the Hollywood version of The Girl with the Dragon Tattoo.
For the Guys
And don't think we've forgotten the guys. Two major trends are a stand out this season for men of any age.
Cropped sides/long top: This year the faux hawk is growing up, becoming a more mature, sophisticated cool. Guys with any kind of hair can rock this short hair trend that keeps the sides trimmed tight and lets the top grow out. Whether you're straight or curly, slicked back or puffed up, corporate or construction worker, indie rock or rockabilly, this style will work on you. Just work with your natural hair texture to adapt the trend to your personal style.
Shoulder length: If you want to buck the short cropped trend, go long or mid-length. Wearing your hair to the shoulder or in a curly mop top or afro is can be an amazing alternative look that works just about everywhere. Just make sure you get a great cut that works well with your hair and face shape to keep those locks under control.
Ready to get your new look for 2012? Phagans Portland Hair Salons are offering $5 haircuts throughout the month of January, so you can update your style for the new year without breaking the bank. Make sure to sign up for the newsletter to get our latest coupons.