September 29, 2011
When you think October, most people generally think of the orange and black of Halloween. But this month we're all going to be green with envy since Opi's Nail Envy line is our product spotlight of the month.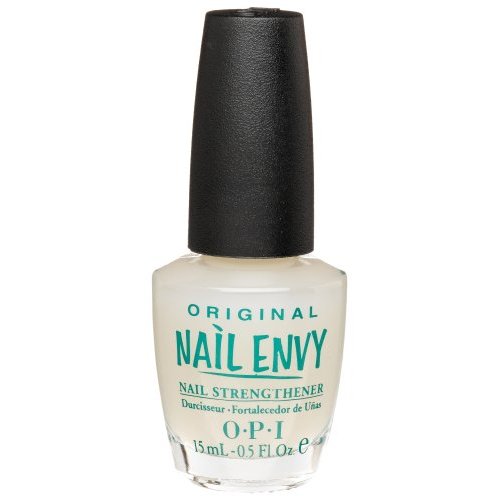 Based out of Hollywood, California, Opi is right at home amongst the movie stars since they are a star in the world of fashion nails. Founded in 1981, Opi's founder and CEO George Schaeffer was originally developing a lacquer that would help teeth maintain their bright white color. While the long-lasting lacquer didn't work well on teeth, Schaeffer discovered that it took color well, resisted chipping and worked perfectly on nails. And thus, the Opi empire was born. Now, 30 years and more than 200 colors later, Opi is renowned in the industry, trusted by professionals and clamored after by the public looking for the latest in nail polish.
[AMAZONPRODUCTS asin="B00178TVXG"]For every nail problem, there is a solution
The Nail Envy line developed by Opi is intended to solve your nail problems by strengthening weak, brittle nails. When you use them, your friends will be green with envy, but they won't have to stay that way. Just share your secret of Opi Nail Envy. These natural nail strengtheners are easy to brush on and come in six formulas to help solve any problem might have with your nails. The line includes:
Original Nail Envy
Hydrolyzed protein and calcium in this high-strength formula allows nails to grow harder, longer and stronger to stave off peeling, cracking or splitting.
Matte Nail Envy
With the same strengthening qualities as Original Nail Envy, this version provides a natural matte look that is perfect as base coat or for that special man in your life.
Dry & Brittle Nail Envy
To moisten nails that break easily instead of bending, Dry & Brittle Nail envy uses a moisturizing formula specially created to helps maintain flexibility. Vitamins E and C included in the formula add antioxidant protection.
Sensitive & Peeling Nail Envy
Vitamin E and Kukui Nut Oil protects against peeling while aloe soothes sensitive nails in this formaldehyde-free formula.
Soft & Thin Nail Envy
Got soft, thin nails? Bulk up with this calcium-rich Opi formula.
Maintenance Nail Envy
Keep your healthy nails strong and sexy with just the right formula to strengthen and protect. Overhardening your nails can make them brittle, so switch to this formula once your nails are strong to keep them in great condition.
Spotlight Savings
During the month of October, you can save when you purchase Opi's Nail Envy products at one of Phagans Portland Salons in Clackamas and NE Portland. To find out how much you can save, sign up for our monthly specials at the newsletter sign-up at the top of the page.