August 9, 2011
This month's spotlight is the TIGI Catwalk Your Highness Firm Hold Hairspray, which we offer for sale in our retail outlets in Clackamas and Northeast Portland.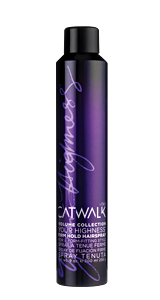 TIGI was originally founded in London, UK by brothers Giuseppe (Toni) and Gaetano (Guy) Mascolo as a hairdressing and education business. It spun off a haircare product company called TIGI Linea, which is based here in the US. The company features a number of product lines, including Bed Head, S-factor, and Rockaholic.
The Catwalk line is designed to give salon hairdressers, including our students at Phagans'
Portland hair salons
, the tools they need to recreate the latest runway trends. There are three collections: Your Highless, Curlesque Curl, and Sleek Mystique Curl.
How it Works:
The Your Highness collection is designed to boost volume, (we love the name!) and the Firm Hold Hairspray, which was named the winner of Star magazine's 2010 Best Hairspray Award, does it well. You can really get a strong hold on a variety of styles, including those you want stay up all day. And the combination of violet, wisteria, jasmine and lavender extracts give it a nice citrus scent. Those extracts also condition the hair and fight static. The spray also contains UV protectants to block sun damage.
Who it's For:
Since the collection is designed to help you get a lot of volume in your hair, this is a great product if you have thinner and/or frizzy hair. It's going to tame the frizz but not weigh it down.
Application:
Spray 10-12 inches from hair, and throughout layers for added volume. Finish with a light overall mist.