August 9, 2011
Even though the weather in Washington and Oregon still seems a little odd, summer has definitely arrived. Days are longer, trees are blooming, and the sun (occasionally) pops out to warm us all.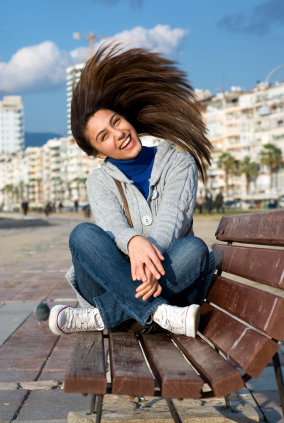 Spring passed us by, but why not consider having a fling with your hair. Flings, by nature, are temporary indulgences that are purely fun. That hunky guy or hot gal looks great on your arm now, but goes flying away with the warm, August wind. Treat your hair to the same kind of fun with a fling.
Adding barrettes or headbands to your current style will give you a completely new look. Depending on the type of accessory you choose, your look could be sixties sassy like Daphne from Scooby Doo or red carpet ready like an A-list actress at the Oscars. And when you're tired of the fling, just toss your accessory into the bathroom drawer until next time.
Feeling a little Captain Jack Sparrow? Why not add some unique extensions to your hair? Feather accessories and extensions can give you an earthy look that you won't see on every street corner. Prefer a little bling? Add some hair flair or hair tinsel to get the sparkle you like in your hair. It's affordable, easy to attach, and a short-lived fun fling for your hair.
Do you want an endless summer? Indulge in a slightly longer-term fling – highlights. A few well-place highlights can brighten up your look that will last into fall. And at Phagans, they are an affordable addition to your look. Call the Phagans Portland hair salon nearest you for details.
By the time the leaves are changing, you're hair fling and these sunny days will be delightful memories.