October 10, 2019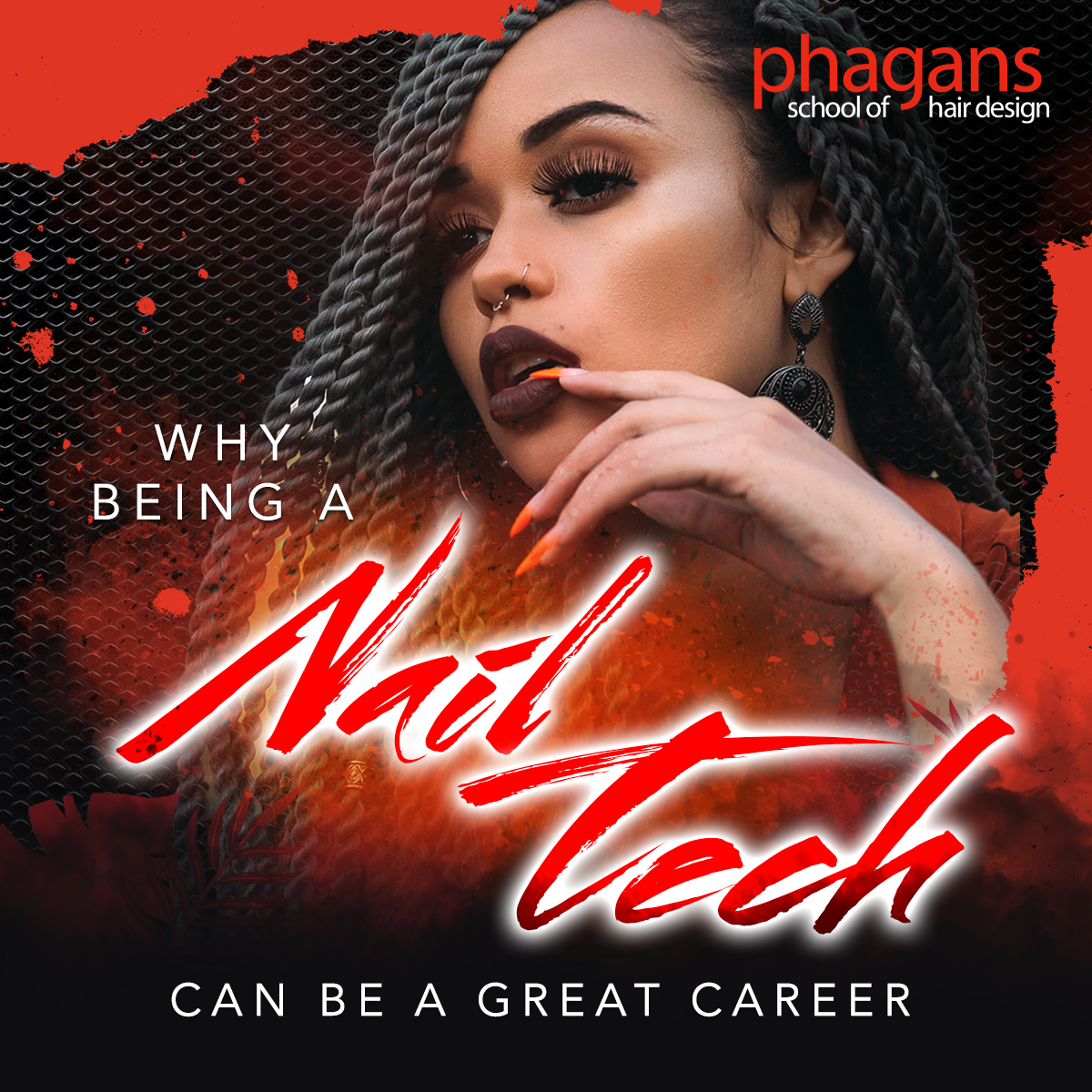 Are you considering a career in beauty? While many choose the route of becoming a hair professional, an often overlooked part of a beauty career is becoming a nail tech. This career is growing faster than average, according to the Bureau of Labor Statistics, and with good reason. In this blog post, we will explore why being a nail tech can be a great career choice and how pursuing a dual program at Phagans can elevate your skills, expand your career prospects, and can make you a highly sought-after professional in the beauty industry!
The Power Of Dual Programs
At Phagans School of Hair Design, we recognize that versatility is a key attribute in the beauty industry. To address this, you have the option to add a nail technology program to a hair design or esthetics course. As the hours required for licensing were recently reduced in the state of Oregon, you can combine nail tech programs with a variety of other courses. Our education programs strive to provide students with a sense of self-worth, pride, and professionalism.
This unique approach unlocks a wide range of benefits for aspiring beauty professionals:
Comprehensive Skill Set:

Pursuing a dual program exposes you to a broader range of skills and techniques, making you a versatile beauty professional. By combining nail technology with cosmetology, for example, you can offer services such as hair styling, coloring, makeup application, and manicures. This can provide clients with a comprehensive beauty experience, making you a one-stop shop for all their needs.

Enhanced Career Prospects:

With a dual program, you become a sought-after professional who can offer a wider array of services. Employers value professionals with diverse skill sets, as they can meet the evolving demands of the industry. Whether you aspire to work in a high-end salon, a luxury resort, or even pursue a career in film and television, a dual program equips you with the versatility you need to succeed.

Collaboration and Networking:

Dual programs encourage collaboration between professionals from different industries. This collaboration fosters a creative environment where you can learn from others, exchange ideas, and offer advice. By working alongside experts in various fields, you broaden your perspective, develop new techniques, and build a strong network within the beauty industry.
Why Being A Nail Tech Can Be A Great Career
As a nail professional, you have a chance to learn more than just nail health and techniques. You can touch lives, build businesses, and create a career you can be proud of. Here are six reasons why pursuing a future in nail tech can be a great addition to your career choice.
1. it's a creative outlet
If you are even remotely interested in nail styles, you know how creative, artistic, and complex they can be. From intricate miniature paintings to gorgeous gemstone mimicry, nails today are a far cry from the last decade. As a nail tech, you can explore various techniques, designs, and trends, providing clients with a unique and personalized experience! 
Check out more nail art and the latest Instagram trends here.
We all love a little sparkle, a little pop of color, a tiny bit of beauty in our lives. It's satisfying not only for the technician but also for the client. You get to provide a glimmer, an escape from the mundane. The joy of seeing your clients' faces light up as they admire their nails can be truly fulfilling! Using your career to learn more artistic skills is the perfect way to blend what you want with what you need.
2. you can have career independence
Many nail techs have the opportunity to set their own schedules. Whether it be working in a salon or owning your own establishment, a career as a nail technician can often mean you have the option to set your own hours. This flexibility allows you to strike a healthy work-life balance and design a career that aligns with your needs and wants! That kind of independence can be one of the best parts of working in the beauty world. 
3. there are alternative career options
As a cosmetologist or esthetician, you might have options for alternative careers. Salons are what most of us think of, but having the option of working with nails could mean working on photo shoots and film sets, working in the medical community, or even teaching as a nail art instructor.
You can play to your strengths and choose the parts of nail tech, esthetics, and cosmetology that you feel most passionate about when looking at careers.
4. you become part of people's lives
As a nail tech, you have the privilege of building strong relationships with your clients. As a licensed nail technician, you spend a fair amount of one-on-one time with customers throughout the day. You become a source of relaxation and can connect with many individuals from all walks of life! With small-talk part of the territory and repeat customers, you can get to know any client base pretty well.
Giving them a look they love is well worth the hard work. Many veteran technicians say having clients leave satisfied and happy is one of the best parts of their jobs.
5. paying for school is possible!
Unlike traditional careers, becoming a nail technician doesn't require traditional school or degrees. Beauty school can be quite different from your traditional college experience, but there are similarities too. Much like traditional colleges, many beauty schools offer scholarships and financial aid to those who qualify. However, the first step is finding an accredited school that offers financial aid.
Beauty schools offering financial aid must be accredited by an appropriate accrediting body such as the National Accrediting Commission of Career Arts & Sciences (NACCAS). You can search their database to see if the school of your choice has been accredited.
Phagans School of Hair Design is accredited by NACCAS and offers federal funding to those who qualify. They also accept a number of scholarships throughout the year and offer different payment plan options. Be sure to contact your school to see what they offer and what you might qualify for.
6. you can have personal satisfaction
Last, but certainly not least, a career including nails can be a way to find personal fulfillment in your chosen field. Not everyone gets to enjoy a job they love. Most are lucky to find some sense of satisfaction, and with nail work, you can find ample reason for feeling satisfied.
From the instant gratification of seeing your artwork completed to having customers leave happy, nail art is a great way to take pride in your work. The trick is deciding if nail technician is a career or just a job. Those who use their attitude to affect their work can find joy every day!
Are nails in your future?
Do you think working as a nail technician could be a good career fit for you? If you're interested, check out Phagans' Nail Technology combination courses. You can learn everything from identifying nail diseases and disorders to manicure makeovers. 
Embrace the artistry of nail technology, and embark on a journey that allows you to make a lasting impression, one beautifully manicured nail at a time. Contact our admissions team to schedule your school tour today!