November 7, 2018
It seems like nail art is getting more and more complicated, right? There are so many tutorials and creative ideas that it can be difficult to even choose what you want to do next. Some of the coolest trends we've seen recently are marble, chrome, and aquarium nails. With all of the creativity and incredible artistry, check out these nail and hair trends we saw in 2018, and maybe turn your love of beauty into a career!

2018's Best in Nail Art and Their Matching Hair Trends
Are you an all-things-beauty lover? Us too! That's why our hair design and nail technology programs are designed to help you expand your knowledge and skills within the world of beauty. Do you think you'd like to try any of these nail designs on yourself? We'd love to see your work! Tag us on Facebook with your best nail art!
Avante Garde
Ready for a pretty weird trend that we saw arise in 2018? Avant Garde! While the trend has been pretty prominent in high fashion shows and photography, we're beginning to see nail artists join in. Pro Tip: search the hashtag #avantgardehair for some interesting "hairspiration".
View this post on Instagram
View this post on Instagram
View this post on Instagram
View this post on Instagram
Geodes, Gems, & Gold
We're all about that sparkly life, and what better excuse to add a little bling to your aesthetic than on your nails? The matching hair trend will make you feel fabulous and unique!
Color Gradients
Gone are the days of nails being one color. Gone are the days where the accent nail is only the ring finger. We suggest exploring Instagram for all the cool silhouettes people placed over these beautiful gradients.
Cuticle Art
Reverse French tips? You can bling out this nail style with jewelry, jewels, or glitter! this groovy nail trend's hair counterpart is equally creative. What's the opposite of dyed tips? Dyed roots!
Geometric Art
Abstract paintings, step aside! This nail trend requires a very steady hand, the proper tools, and probably a little training. The hair trend likely requires even more skill as it's all about sharp lines and edgy angles.
Miniature Paintings
Who needs to visit a museum when you can carry your own on your fingertips? You'll need to find a very skilled nail artist in order to accomplish this level of artistry, so why not visit our student salon*? The hair counterpart? Mix and match colors, oils, and cuts!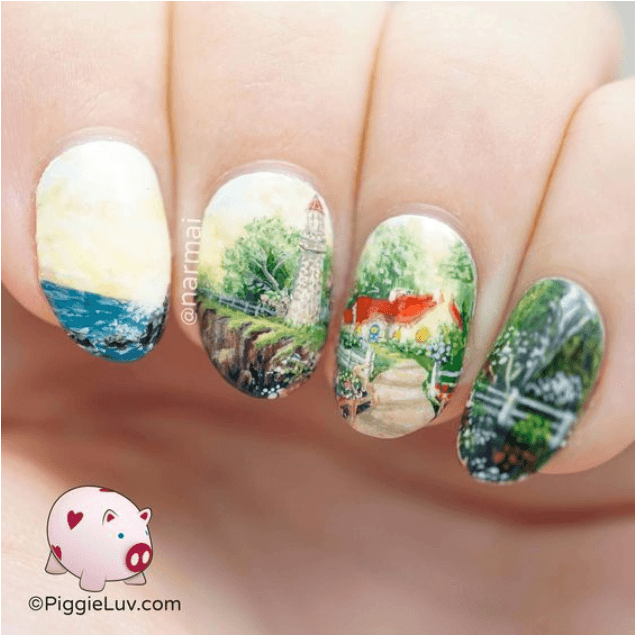 Take Your Love of Nails to the Next Level
Now that you want to try each and every one of these amazing nail and hair designs, it's time to find someone you trust to make them a reality. However, that can sometimes be the hardest to do. What if you could do it yourself?
If you loved these nail designs as much as we did and felt an itch to try them on your own hands, you might consider getting a professional training from Phagans School of Hair Design.
With our Hair Design program, you can let your love of nail art drive your creativity for a career in hairdressing! Our Hair Design program could teach you how to create hair styles based on these incredible nail designs as well as a lot of other skills you could use in a well-rounded beauty career. We think you'll love it here, all you have to do is fill out this form and find out.
*All services provided by students under the supervision of licensed professionals.