June 2, 2023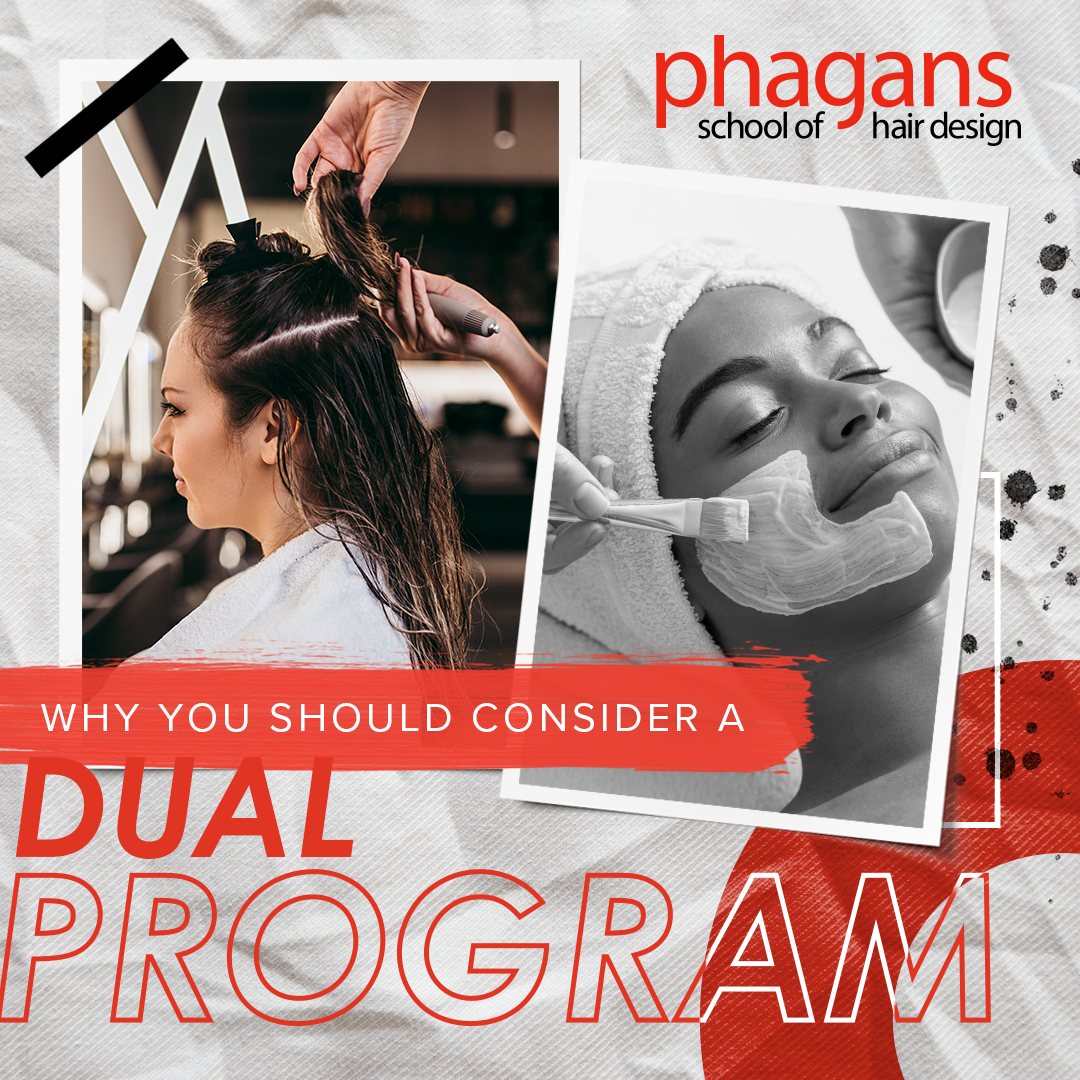 Do you have a passion for beauty and have a hard time choosing a program? If so, we have the perfect solution for you! At Phagans School of Hair Design, we offer dual programs that allow you to pursue different courses at once.
In this blog post, we will explore the benefits of enrolling in a dual program at Phagans and why it might be the right choice for you!
Versatility and Expanded Skill Set
One of the most significant advantages of enrolling in a dual program at Phagans is the versatility and expanded skill set you'll acquire. By studying different industries, you'll gain comprehensive knowledge of a broader range of beauty and wellness practices. This dual education can empower you with the ability to offer a wider range of services to your clients, making you a valuable asset in the industry.
Enhanced Career Opportunities
Completing a dual program at Phagans opens doors to enhanced career opportunities. As a graduate with skills in a variety of settings, you'll stand out among other professionals in the field. Whether you choose to work in a salon, spa, or even start your own business, having a diverse skill set can give you a competitive edge. Employers are always seeking professionals who can provide a variety of services, and a dual program can give you that advantage.
Holistic Approach to Beauty
In today's beauty industry, there is a growing demand for professionals who take a holistic approach to beauty. Clients are seeking more than just a simple haircut or facial; they want an experience that nourishes their bodies and soul. By enrolling in a dual program, you'll gain a deeper understanding of the interconnectedness between hair, skin, and overall well-being. This knowledge can enable you to provide a holistic approach to beauty, catering to the needs of your clients on a deeper level.
Time and Cost Efficiency
Choosing a dual program at Phagans allows you to save both time and money. Instead of enrolling in separate cosmetology and esthetics programs, a dual program allows you to complete both courses concurrently. This means you can graduate with two certifications in a shorter timeframe compared to pursuing each program separately. Additionally, by combining the programs, you can save on tuition fees and other associated costs, making your education more cost-effective.
Networking and Collaboration Opportunities
Another benefit of a dual program is the increased networking and collaboration opportunities. During your studies, you'll interact with peers from different programs, giving you a chance to build connections with professionals from various fields. These connections can be invaluable as you progress in your career, as they can lead to job referrals, mentorship opportunities, and even future collaborations.
Comprehensive Client Care
A dual program gives you the opportunity to provide comprehensive client care. By studying multiple industries, you can develop a deep understanding of various beauty and wellness practices. This comprehensive approach to client care not only enhances their experience but also builds trust and loyalty
Being able to offer a range of services under one roof makes you a one-stop solution for your clients, ensuring they receive personalized care and attention from a professional who understands their unique beauty requirements. By enrolling in a dual program, you can become a well-rounded beauty expert!
Get Started With Us!
Enrolling in a dual program at Phagans School of Hair Design offers a multitude of advantages for aspiring beauty professionals. A dual program can equip you with the skills and knowledge necessary to succeed in the ever-evolving beauty industry. These are the dual programs we offer:
Pursuing a dual program at Phagans can be a smart choice for those passionate about beauty. Take the leap and embark on a fulfilling journey toward a rewarding career in the beauty industry! Contact us today for more information! We look forward to hearing from you!