March 28, 2023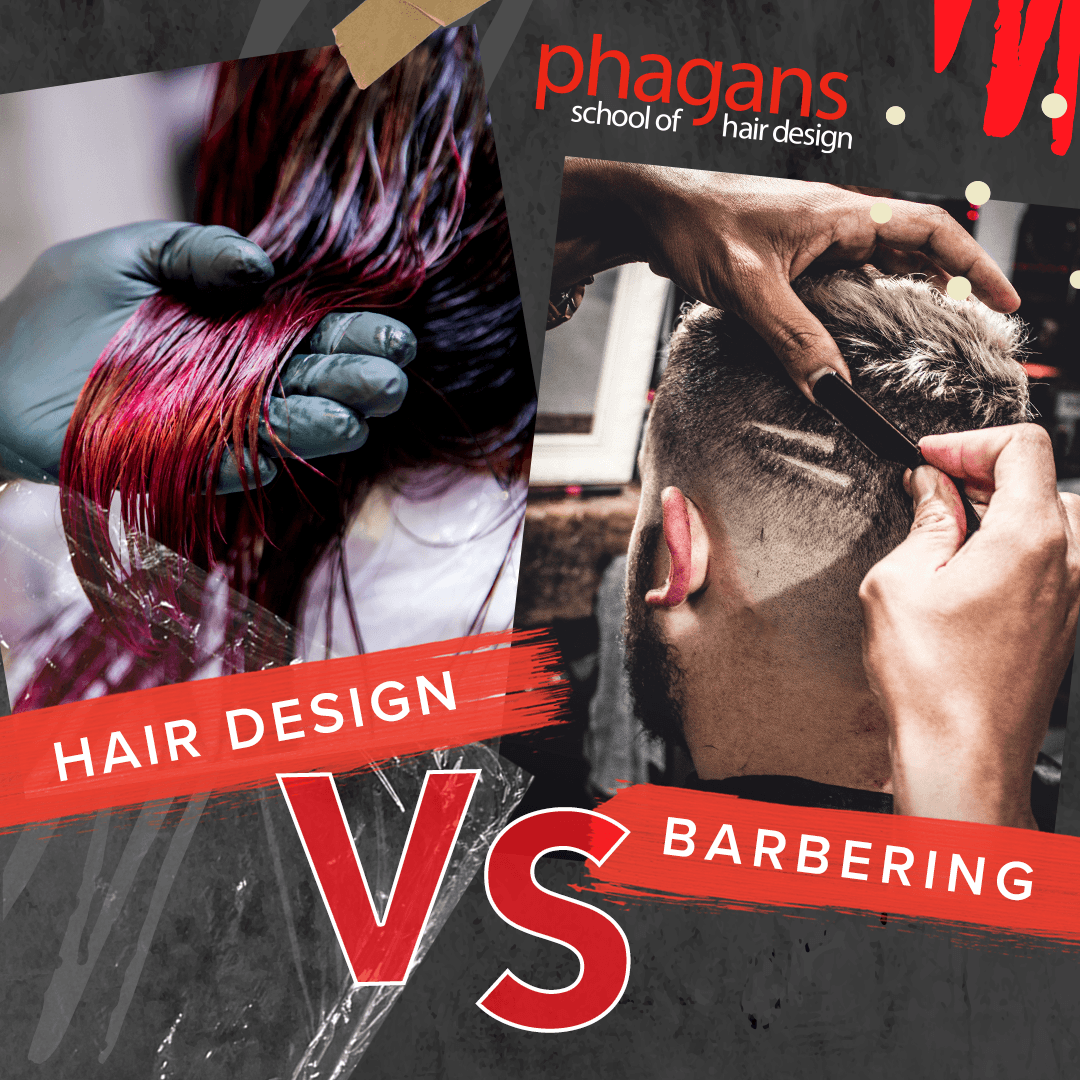 If you're passionate about hair and beauty, you are probably considering a career in hair design or barbering. While they do share some similarities, they also share some differences! We know how hard it can be choosing between two career paths, so hopefully by the end of this blog you'll have a clearer idea of which you want to pursue! In this blog, we're going over these two careers so that you can have a better understanding of what profession is best for you.
What Is Hair Design?
Hair design is a profession for those that love all things hair! Hair designers are trained to cut, color, and style hair. Hair designers can offer a wide range of services like hair coloring, styling, hair cuts, scalp treatments, bridal styling, and more. Basically, their goal is to give their client a style that best fits their clients needs and wants!
About Our Hair Design Program
Our hair design program is 1,150 hours and was built for students who have a passion for all things hair! We believe that for students to find success in their chosen field, they need to know theory, practice, and on-the-job skills. This program is a great fit for someone who has always loved styling, cutting, and doing hair. Our curriculum covers:
Hair cutting
Perming
Relaxing
Haircutting
Hairstyling
State testing preparation
Teamwork skills
Salon expectations
How to open your own salon
What Careers Can I Have?
There are so many careers one can have as a hair designer. With the beauty industry constantly evolving and changing, there are many opportunities available to those who choose to pursue hair design. Here are a few you can consider:
A family hair salon
Product educator
Entrepreneur
Hair specialty salon
Hair and beauty blogger
Hair social media influencer
What Is Barbering?
Barbering is a more specialized field that focuses more on men's hair and grooming needs. Their services range from haircuts, shaves, beard trims, and facial hair grooming. They're skilled at using scissors, clippers, and straight razors to achieve a clean and precise cut.
About Our Barbering Program
Our barbering program is 786 hours and is designed to help our students sit for the Oregon state board. We also want to give our students an opportunity to be successful business people after graduation, which is why we strive to equip them with the necessary skills. Some of the skills taught in our program are:
Hair and its associated structure
Hair and scalp diseases
Sculpting or cutting
Styling (wet and thermal)
Shampooing and conditioning
Shaving
And much more
What Careers Can I Have?
As a licensed barber, you can make your career fit your lifestyle. Phagans graduates have found many rewarding careers in different fields of the beauty industry. Men's grooming has become popular over the years, which means there is a growing demand for barbers. You can choose to be a:
Product representative
Platform artist
Educator
Freelance hair designer
Barbershop owner
How Are They Similar?
We've mostly talked about the differences between hair design and barbering so now we're going to talk about the similarities between the two!
Requires a creative eye: Both professions have to envision a certain style and execute it. Each client will want something different, and seeing the transformation from before to after can be incredibly satisfying.
Rewarding career: A great hairstyle can do wonders for someone's confidence. Both hair designers and barbers have the opportunity to make people feel good about themselves.
Requires technical skills: Both hair designers and barbers go to school to learn the technical skills required to be successful. They must know product knowledge, styling techniques, and cutting techniques.
Are You Ready To Pursue Your Dream Career?
Whether you're interested in hair design or barbering, Phagans School of Hair Design can provide you with the skills and knowledge you need to be successful in the beauty industry. With over 70 years of experience, we offer comprehensive training that covers all aspects of hair care.
Whether you choose hair design or barbering, your career can be both a rewarding and fulfilling one! Why wait? Contact us today to start your journey towards a career in the beauty industry!