July 5, 2022
While resumes are a great way to apply for a job in the beauty industry, in today's world, social media portfolios are going to catch potential employers' and clients' attention even more. Visuals allow others to see how much experience you have and what you have to offer as a stylist. Whether you are using Instagram, Facebook, or TikTok to build your beauty social media portfolio, the content you post can go a long way in landing that dream job you always wanted! We have a few tips to help you get started! 

Start Now! 
The beauty industry and social media are both competitive which is why you are going to want enough content to post consistently. The best way to get enough content out there is to take before and after photos of everyone you perform styles for. Take lots of photos and videos of any haircuts, hair coloring, makeup, and styles you do at cosmetology school or in your best friend's home! 
If you are currently pursuing an interest in hair design, esthetics, barbering, or nail technology, then you are definitely going to want to present your creativity to the world of social media! A TikTok or Instagram portfolio allows you to:
Get connected with clientele

Create your brand and introduce who you are as a stylist

Share your knowledge and experience 

Connect with followers who are interested in the beauty industry

Give future clients details on scheduling appointments and prices

Impress potential employers and businesses you hope to someday work for.
In the beauty world, you are definitely going to want to create a platform so others can see your talents and creativity as a stylist. 
Create Your Brand 
Before building your beauty social media account, you need to know what kind of brand and style you want to create. Knowing what kind of vibe you want to present in your videos, photos, and graphics can help you to know what direction you want to take as a stylist. The best way to start is by coming up with a color scheme. If you are a stylist who wants to be defined as fun, retro, and trendy, then you're going to want to use bold and retro colors. If you want to be represented as more down to earth and in creating a more relaxed environment, then you are going to want to use more natural tones in your designs and posts. Choosing the right colors are important in conveying any specific emotions or feelings you want viewers to feel and expect from your services. Being consistent in your brand and style also helps to increase engagement and familiarity. 
Add Value to the Social Media Beauty Community
You aren't creating a social media platform just to join, but are there to add value to the community and content that engages followers. It's important to stay away from controversial topics and use your unique personality as a way to spark interest. There are different ways to go about content, but the best way is to be yourself and show who you really are as a creative stylist. When we say add value, we mean using relevant and interesting content that can easily get your targeted audience following you and liking your posts. The more valuable content you have, the more likely you are to build your clientele. 
Take Quality Photos and Videos
The best way to boost your beauty brand is by showcasing your photos professionally. It is important for viewers to get an idea of what they can expect from a visit with you. Higher quality videos and photos can attract more followers who are more likely to schedule an appointment with you! All you need is your phone! Here are a few of the best ways to record videos or take quality photos: 
Use Portrait mode to focus on the results of your hair or skin care services

Show a variety of angles and perspectives when taking photos

Choose a background that is a solid color or texture and is consistent with your brand or style.

Take videos or photos under natural lighting

Look at other platforms as a guide and for new ideas

Invest in a tripod or mount for your phone
Always have your phone on hand and be sure to take before and after photos, as well as videos of your services in action.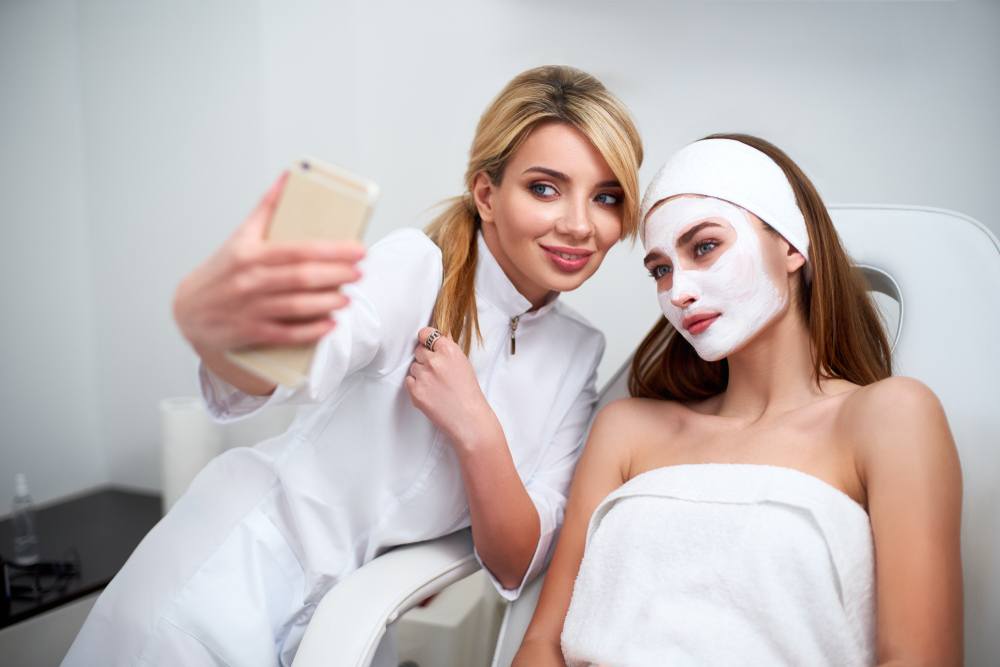 Build Your Social Media Account at Phagans School of Hair Design
Ready to build your social media account? At Phagans School of Hair design, we offer a curriculum where you can gain experience and practice your skills. Contact us today for any questions or concerns you may have. If you want to get more of an idea what our classes look like, then book a tour with us in Happy Valley, Oregon and we can help you to get started in your passion for beauty!