January 26, 2022
Are you passionate about skin care? Do you love experimenting with makeup? If so, becoming a licensed esthetician could be a great fit for you! Estheticians use their skin care expertise to help people with their skincare and feel more confident about the way they look. 
If you're wondering how to become an esthetician, you've come to the right place. In this blog post, we'll go over all the steps you need to take to become a licensed esthetician. Let's get started!
The First Steps to Becoming an Esthetician
Research Beauty Schools in Your Area
Once you've decided that you want to pursue a future in esthetics, the first step is to research cosmetology schools near you. Many people only associate cosmetology school with hair cutting and coloring, but esthetics is a big part of cosmetology.
Many beauty schools include esthetics, hair, and nails in their cosmetology programs. Other beauty schools offer esthetics as a standalone program. Here at Phagans School of Hair Design, we offer both options, as well as dual programs (esthetics / hair design and esthetics /nail technology). This way you can be sure to learn about the programs that you love!
Search online for different beauty schools near you, then check out the programs they have to offer. Look at the length, price, and curriculum for each program you're interested in. Narrow your options down to a few beauty schools you'd like to learn more about, then move onto the next step.
Schedule Tours of Different Cosmetology Schools
Next, schedule a tour of each cosmetology school you're interested in attending. Touring each of the campuses will give you a better idea of what it'd be like to be a student there. Remember to ask questions during each tour to clear up anything you need more information about, such as class start dates and financial aid*. 
Once you've toured all the beauty schools you're interested in, compare each option, choose your favorite one, and apply for your preferred program there. You should also consider taking the time to apply for financial aid. Qualifying for financial aid can make cosmetology school much more affordable.
Complete an Esthetics Program at a Beauty School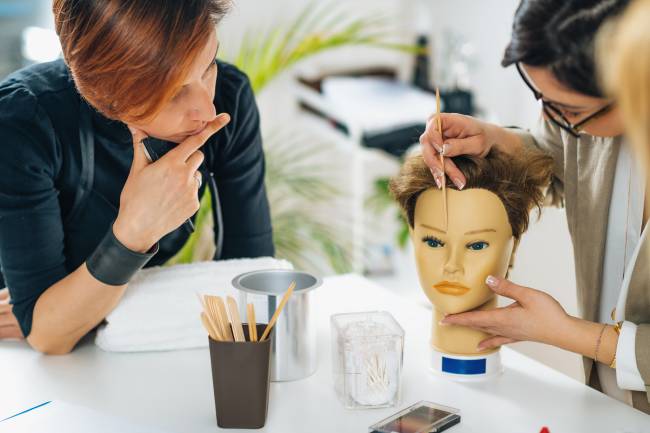 Once you're officially an esthetics student, it's time for the fun part: learning about skin care! While attending beauty school, you can hone your esthetics skills with a combination of classroom instruction and hands-on training.
Depending on your beauty school's esthetics curriculum, you might learn about makeup, facials, massages, and more. Here at Phagans School of Hair Design, our esthetics program covers:
Skin care treatments
Applying makeup
Lash and brow tinting
Temporary hair removal, such as waxing
And much more!
Becoming an esthetician takes much less time than graduating from a four-year college. Our esthetics program is 600 clock hours, and our combined hair design/nail technology/esthetics program is 1835 clock hours—each includes practice performing services on real clients in our student salon.*
Once you graduate, congratulations! Finishing beauty school is a big step towards pursuing your passion for skin care. At this point, you're on your way to becoming a licensed esthetician, but there are still a few more steps you need to take.
After Graduating from Beauty School
Pass the State Board Exam
Next, you'll need to apply for the state board exam. Passing the exam is vital to becoming a licensed esthetician, so make sure to study hard beforehand. If you pass, you can receive your license from the state you're in, and you'll officially be a licensed esthetician!
Find a Job as a Licensed Esthetician
The next step is to find an exciting new job as an esthetician. You can consider applying for an esthetician position at many different businesses, including:
Salons
Spas
Med spas
Massage parlors
Cruise ships
Resorts
Wellness centers
If you want to work as an esthetician, but you don't want to work for someone else, you can also pursue a couple of different options. The first option is starting your own business. To do this, you can either open your own salon or spa, or rent space at an existing salon or spa.
The second option is to become a freelance esthetician and find work on a case-by-case basis. Working for yourself has its own unique set of risks and challenges, but you might find that it's the right path for you.
Start Your Esthetics Education at Phagans School of Hair Design
Are you ready to start pursuing a future in esthetics? Follow your dreams and start your esthetics education at Phagans School of Hair Design in Portland, OR. Instead of only covering esthetics in one of our programs like some other beauty schools do, we include esthetics in several different courses, so you can pick the one that's best for your unique interests. You can choose between these exciting programs:
Esthetics
Esthetics / Hair design / Nail technology
Esthetics / Hair design
Esthetics / Nail technology
No matter which program you enroll in, our dedicated staff will teach you a wide range of useful beauty skills. We'll cover everything you need to know to pass the state licensure exam with flying colors. Get the process started by contacting us and scheduling a tour of our campus!
*Financial Aid is available to those who qualify.
*All services performed under the supervision of licensed instructors.