February 3, 2020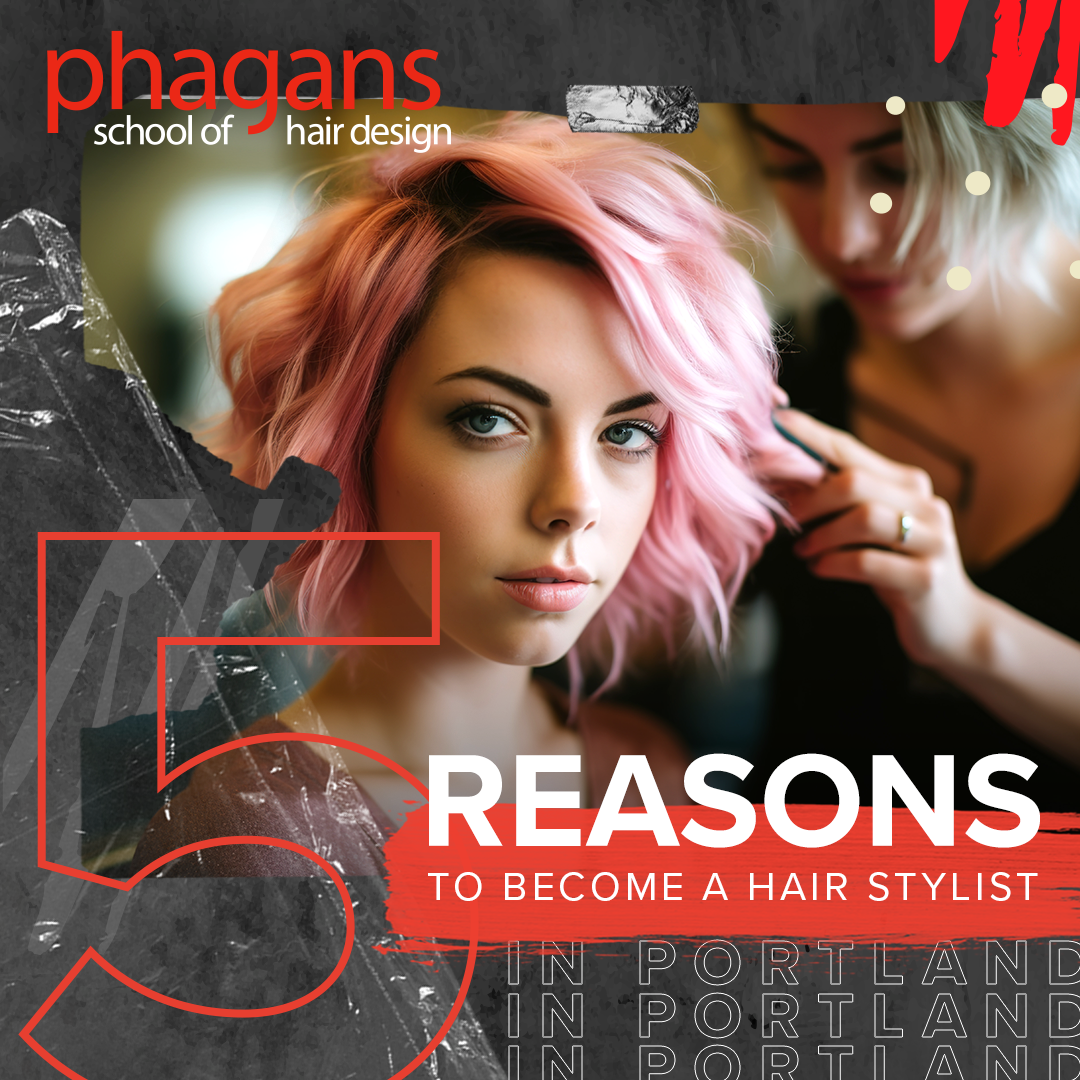 Are you considering a career change or just starting out in the professional world? Do you have a passion for creativity and a desire to help others look and feel their best? If so, becoming a hair stylist in Portland might be the perfect career choice for you.
In this blog post, we'll explore five compelling reasons why you should consider pursuing a career as a hair stylist in the beautiful city of Portland.
1. Flex Your Creative Side
As a stylist, you have the freedom to show off your artistry in every haircut. From techniques like perms and chemical retexturizing to coloring hair, innovative creativity is always alive in Portland. As a hairstylist in Portland, you'll have the opportunity to work with clients who appreciate and celebrate their distinctiveness. They'll look to you for guidance in transforming their hair into a work of art that complements their personality. 
The city's thriving arts and culture scene can also serve as a wellspring of inspiration for your creativity. Whether it's fashion shows, music festivals, or local art exhibitions, you can find ample opportunities to collaborate and showcase your skills.
2. More Job Potential
The skills you can learn as a cosmetologist may allow flexibility in future career choices. Whether you choose to work for a shop (and in Portland there are plenty) or open your own, cosmetologists can find many places to foster their talents. At Phagans, you can study hair design as well as manicuring skills and skin care to give yourself more techniques to work with. We hope our graduates can draw from many methods to make themselves a success. Our school teaches hair theory, design techniques, and business skills to help give our students a variety of options.
Additionally, the diverse and inclusive nature of the city means you'll encounter a broad range of hair types and styles. This diversity can enhance your skills as a hairstylist and prepare you for any challenge that comes your way. From curly hair to straight, fine to coarse, and everything in between, you'll have the chance to work with clients who have varied preferences and needs.
3. Meet New People
One of the most rewarding aspects of being a hairstylist is the opportunity to meet new people and connect with them on a personal level. In a city like Portland, which is known for its friendly and welcoming residents, you'll find it easy to build connections with your clients. You'll not only be transforming their hair but also playing a significant role in enhancing their self-esteem and confidence.
Your clients will come from various backgrounds, and they'll bring their unique stories and experiences with them. Engaging in conversations while working on their hair will allow you to learn from different perspectives and cultures, making each day on the job an exciting and enriching experience.
4. Connect With A Community
The community you serve is an important part of any career in hair styling. This industry is uniquely situated to become a fixture, rather than just another shop. You serve the people in your area, and know about their lives, passions, and interests. If you are already passionate about Oregon and the people of Portland, you can thrive behind the chair.
Being part of this close-knit community can lead to valuable connections, both professionally and personally. You'll have the opportunity to attend industry events, workshops, and networking gatherings to expand your circle of peers and mentors.
In addition to building relationships within the beauty industry, you'll also connect with your clients on a personal level. Many of them will become regulars, and you'll form a bond that goes beyond the stylist-client relationship. These connections can be profoundly rewarding and contribute to your sense of belonging in the community.
5. Training And Education Opportunities
To become a successful hair stylist, you need the right training and education, and Portland has a lot to offer in this regard.  Whether you're just starting your journey in the beauty industry or you're looking to enhance your skills and stay up-to-date with the latest trends, Phagans School of Hair Design can provide you with the necessary tools and knowledge to excel in your career. Our curriculum covers everything from the basics of hairstyling to advanced techniques, color theory, and even business management skills.
Phagans also provides students with hands-on experience, allowing you to work with real clients and gain practical skills that are essential in the field. With a solid education from a reputable institution like Phagans, you'll be well-prepared to launch a successful career as a hair stylist in Portland.
Ready To Get Started?
Becoming a hair stylist in Portland can be a fantastic career choice for those who are passionate about creativity and helping others look and feel their best. 
If you're ready to embark on this journey, take the first step by contacting us today. With the right education, passion, and dedication, you can build a successful and rewarding career as a hair stylist in the beautiful and unique city of Portland. Your journey to making others look and feel their best starts here!