May 20, 2019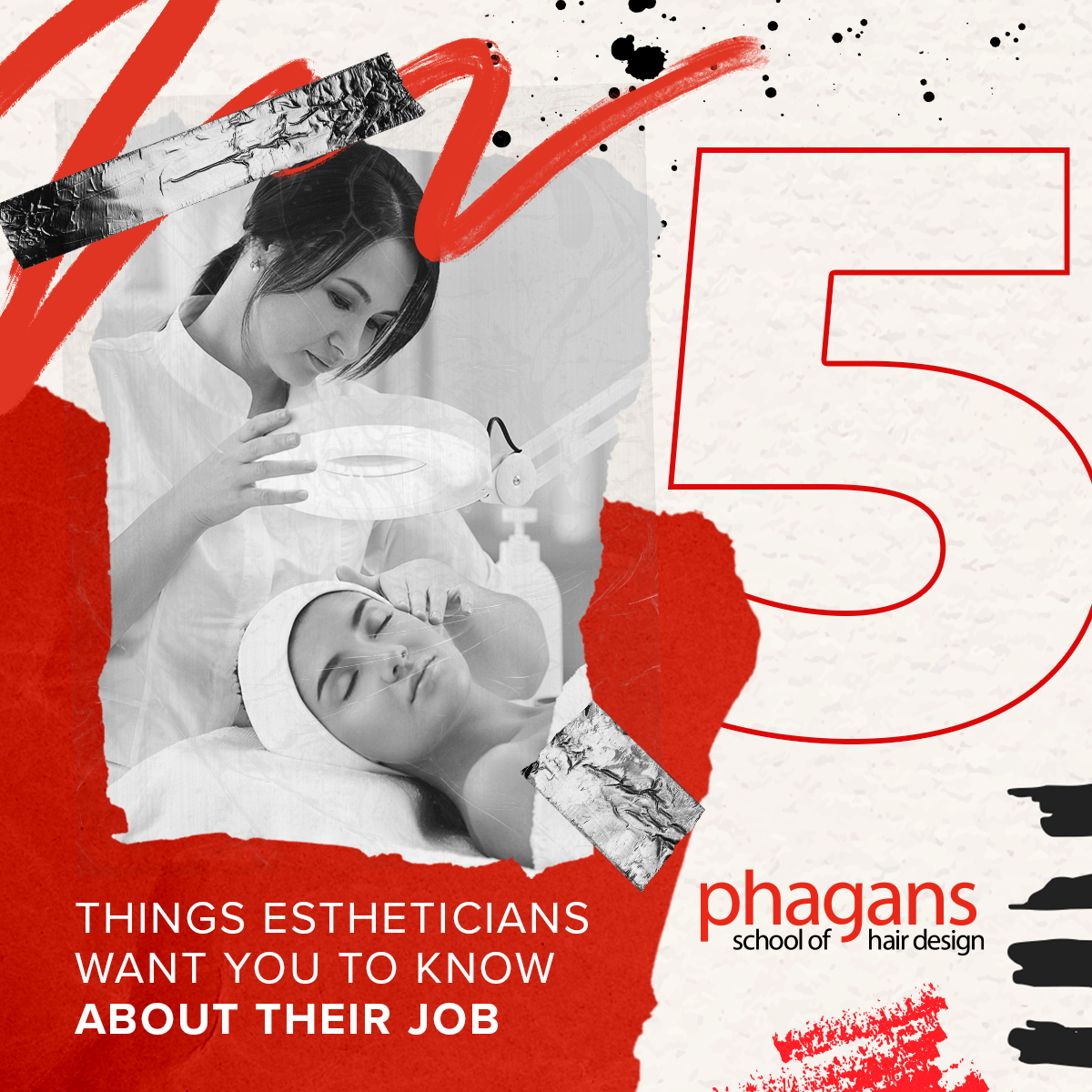 Are you interested in pursuing a career in the beauty industry? Perhaps you're considering becoming an esthetician, but you're not quite sure what the job entails. Estheticians are skilled professionals who specialize in skincare and beauty treatments, and their job is much more than just applying makeup and giving facials. At Phagans School of Hair Design, we train our esthetician students to be experts in all aspects of skincare, from basic anatomy and physiology to advanced treatments and product knowledge. 
In this blog, we're going over the five things estheticians want you to know about their job! Whether you're thinking about pursuing this exciting career path or just curious about what estheticians do, keep reading to learn more.
1. It takes dedicated training
Skincare techniques may seem simple on the surface, but it actually takes dedicated training and practice in order to become licensed in esthetics. In the state of Oregon, you are required to complete 500 hours of training at an approved institution in order to sit for the licensing exam.
At Phagans School of Hair Design, we have a program that is 600 hours of training. We provide education above the 500 hours required because we believe in preparing our students to the best of our abilities! As part of our curriculum, our students can learn:
Skincare treatments

Makeup 

Body treatments

Temporary hair removal

Lash and brow lifts

And more!
The dedication that estheticians have toward their craft is rooted in passion and excitement for their careers!
2. It's for people who love people
Being an esthetician is not just about performing treatments and recommending skincare products; it's also about building relationships with clients. A good esthetician knows how to listen to their client's concerns and provide personalized care and attention. They are often the first person a client turns to when they have a skin problem or need a confidence boost, and they take that responsibility seriously. 
Estheticians who love people and have excellent communication skills are well-suited for this career. They can build a loyal clientele and make a positive impact on their clients' lives. Estheticians often don't pursue this career because they are vain. They pursue it because they want to see the faces of others light up in excitement when they finish their service! They understand that beauty is more than skin deep.
3. They offer more than just facials
When most people think of an esthetician, they probably think of facials and makeup. However, estheticians do so much more than that. They can also perform hair removal, body wraps, chemical peels, and other specialized treatments. Some estheticians even work in medical settings, providing pre-and post-operative skin care to patients.
4. It can be a rewarding career
Being an esthetician can be a very rewarding career. Estheticians have the opportunity to help people feel better about themselves, whether that's by improving their skin's appearance, providing relaxation, or simply listening and providing emotional support. Estheticians also have the flexibility to work in a variety of settings, from spas to medical offices to their own private practices. And because the beauty industry is always evolving, estheticians have the chance to continually learn and grow in their careers.
5. Product Knowledge is Vital
Estheticians are not just skilled in performing treatments; they are also experts in skincare products. They know which products work best for different skin types and conditions. They can recommend products for clients to use at home to maintain their skin's health and appearance. A good esthetician will stay up-to-date on the latest skincare trends and products and will be able to give clients personalized recommendations based on their individual needs.
You can be one too!
If you loved learning all these facts about a career as an esthetician, you might be interested in becoming one. The beauty community is always looking to bring others into the fold. Whether you've had a career for years and want to try something new or you've just graduated high school, there's a place for you in the industry.
Find out how Phagans can help you!
Are you ready to find out more about becoming an esthetician? Contact Phagans School of Hair Design to learn more about our Esthetics program! We can't wait to help you pursue your dream career!