December 18, 2017
What can you learn in beauty school? Some examples include haircutting, styling, coloring, nails, facials, makeup artistry, and much more! At Phagans School of Hair Design, we want our students to learn all of these things and grow to become stronger members of the community.
To help our students become better rounded individuals, we try to provide them with opportunities to serve. Here's some of our regular events, why we hold them, and some of the results we get from doing it.
Haircuts for the Homeless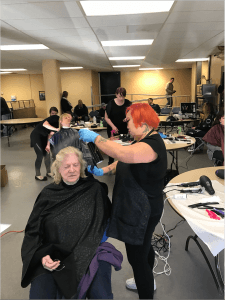 Every spring, summer, fall, and winter we select a few students to go to the Portland Rescue Mission to give free services to homeless people. Phagans has been doing this for about two years and each time has been an incredible experience. Each time this event rolls around, the sign up sheet for students fills up quickly. They are excited to help. They want the opportunity to serve those in the community who are in need. It's awesome to see and when the event is over our students have a new perspective on things.
What Serving Does
The primary motivation for getting involved in this event is for the benefit of the people we serve. Even though this is the main reason we do it, our students also benefit in a huge way. It seems like when our students serve without expecting anything in return is when they get the most. The students leave the Portland Rescue Mission feeling really proud of themselves. The excitement that they have for their future careers also grows.
This event and others like it have also made a big impact on the culture and atmosphere at Phagans. The students who participate bring a special positivity back to their classrooms. They are oozing with an excitement to help others. This can mean helping a classmate, a client, or even one of their teachers. It's contagious and raises everyone up.
The Importance of Beauty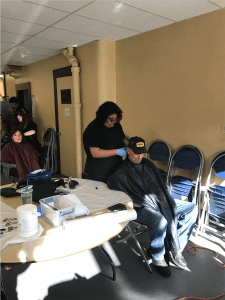 Ms. Carla is one of the instructors who helps coordinate this event. She said that the people who come to the Portland Rescue Mission show "A lot of gratefulness, a lot of tears of happiness and joy. They're just blown away by how kind our students are and how much care they take. Our students don't care that [the clients] are homeless and that means everything to these people."
The reactions of the clients is a great testament to the importance of something as simple as getting a haircut. For people who may not be getting beauty services on a regular basis, it can make a huge difference in the way they see themselves. It can even change the way they feel about themselves. For many licensed cosmetologists or estheticians, this is the most satisfying part of the job: seeing how the work you do changes how people feel.
Build, Improve, Strengthen
Phagans has been around for 75 years. In those years we have been building a reputation of excellence in education for beauty professionals. We have also been striving to be a pillar in the community. Building the community up is part of our school culture and identity. By partnering up with an awesome organization like the Portland Rescue Mission we feel like we can truly make a difference. One of our goals is for our students to graduate with a desire to make a difference, too.
Build the Career of Your Dreams
If you want to make a difference as a beauty professional, contact us. We can answer your questions about what it takes to become a beauty pro and where to start. You can schedule a tour by calling 833-840-9039 to see if Phagans is a good fit for you! We can't wait to show you around.