August 5, 2015
Patty Drexler is a familiar face at our SE campus. She is a Financial Aid Administrator for Phagans SE, and is very much a part of our students academic life by helping them negotiate the task of funding their education. Patty is a champion for their success, and cares about each and every student past and present. Just a couple quick questions so you can learn a little more about Miss Drexler.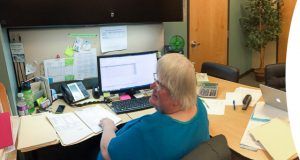 How long have you been at Phagans: I have been with Phagans for just over 16 years; 10 years with Phagans Tigard in October and 7 years with Phagans Clackamas in September.
What is your favorite thing about working at Phagans: I enjoy working with a great team that is dedicated to guide our students in their chosen profession.
What do you think makes a successful student at Phagans: Cosmetology is a combination of academics and hands on practical experience. Students who have the passion of the industry are the ones that will succeed. The Cosmetology industry is a fabulous way of life. There are so many opportunities available all over the world!
Well said Patty.
There are a couple key ingredients that go into running a beauty school. The first is people like Patty who are dedicated to helping students achieve their dreams. Our staff members at Phagans, Patty included, are all working to help students become beauty industry leaders because they love it. Seeing a student achieve great success and start living their dream is a greater reward for Phagans team members than any paycheck. They are an integral part of what makes Phagans School of Hair Design what it is.
The second key ingredient is our students. The hard work, determination, grit, and passion that our students display on a daily basis is inspiring. It's the fuel that keeps the Phagans fire burning. We love our students and everything we do is centered on helping them reach their personal and professional goals.
Start Building Your Beauty Career
Are you dreaming of becoming a beauty professional? Don't wait. Contact us today to learn more about our programs. We can help answer any questions you may have about the required education, enrollment process, career possibilities and more. Once you are ready to begin your journey, Patty can help you make a financial plan to complete your beauty education.
We can't wait to hear from you!