May 5, 2015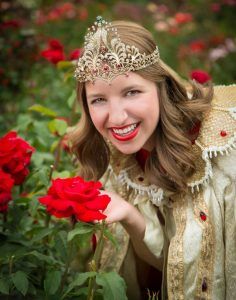 Since Phagans School of Hair Design has provided, the hair, make-up, and styling for the Portland Rose Festival Princesses during the Queen's coronation for several years, we thought we catch up with 2014 Queen Emma Audrey Waibel for a quick Q&A on her experiences.  This year's coronation is Saturday, June 6, 2015.
How did you get involved with the Rose Festival?
I attended the 2012 Queen's Coronation and then also went to one of the metro coronations and was inspired by the confidence and civic involvement of the girls who applied.
What was it like being crowned Rose Festival Queen?
It's incredibly overwhelming being surrounded by close friends and family and also being recognized as a leader by the city of Portland.
What are some highlights you've had over the last year being Queen?
One of my favorite trips as the queen was attending the Pendleton Round-up. I loved being immersed in the "cowboy culture" there in Pendleton and spending time with the Pendleton and Happy Canyon Princesses.
How did you like the Phagans' students helping you get ready for the coronation? Was you experience good with your artistic team?
I had such an incredible experience with my Phagan's team. I felt like they heard what I wanted and we all worked together to create a vision. I was so pleased with how my hair and makeup turned out the day of coronation. In fact, I loved my look so mucho that day that I contacted some of my style team members just recently for an event that I have coming up!
What would you say to any girl thinking about being involved with the Rose Festival Court?
To go for it! The Rose Festival is not looking for any specific type of girl and so I would encourage anyone to try out.
Finally, what are your plans for the future?
Next year I will be attending Chapman University in Orange, California to study graphic design.