February 14, 2015
Meet Sarah Pein. We are very proud of her and her recent graduation from the Lloyd Campus. Our loss is a salon's gain, as she looks to transition into being behind the chair. Congratulations Sarah on getting licensed and following your dream. You have worked hard and we will miss you, but we know you will be successful and always a big part of the Phagans family.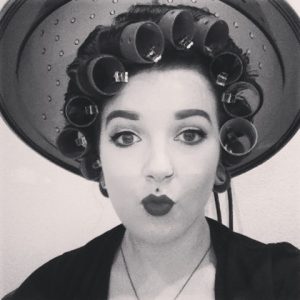 How did you get involved with Phagans?
I was wanting to save up for Cosmetology School. My fiancé actually saw that Phagans was hiring. I thought it would be great to work at a cosmetology school to motivate me to save up. I was working at McDonalds at the time, so I was very excited to apply at Phagans.
How was your experience working and being a student?
It was hard work. I spent 64 hours a week at Phagans, but it was definitely worth it. It was great to have a job that worked around my school schedule and I didn't have to drive somewhere else for work either. I was exhausted for a few months in the beginning. It was really hard to adjust, but your body gets used to new schedules.
How do you think you have changed since being at Phagans?
I could probably write a book about how much I have learned since being at Phagans. I have learned so much about myself and grown from this experience. I was 21 when I first started working at Phagans and now I'm 24. There was a lot of growing up for me. The biggest thing I've learned is to be yourself no matter what and if someone doesn't like you, it isn't the end of the world.
What do you like doing most?
I really enjoy doing mens' cuts. It's like you're sculpting the hair in to a finished product that the wearer is wanting. Also, I love hair design. I'm a big fan of the 40's and 50's, which means pincurls, victory rolls and classy, sophisticated updos! I love how creative updos can be.
What surprised you about beauty school?
You always hear that beauty school is like high school all over again. But it wasn't like that at all for me. I had a blast and I made a ton of friends. Being an employee, I thought it would be hard for the other students to trust me, but even so, I have made quite a few friends I know will be life-long friendships. I had no drama and I got along with everyone.
What is your goal/dream now that you've graduated?
I want to eventually be leasing my own station with a steady clientele, doing hair and makeup for weddings and also be a representative for a company like Joico. What's great is that I can do all of those things. Right now I'm focused on finding the right salon to start out at. One step at a time!
Sum up in one sentence what it means to be in the world of cosmetology?
To be in the world of cosmetology, it feels empowering, inspiring and down right amazing.
Add anything else:
My advice to anyone who is in my position, working and going to school is to not give up. Don't give up, keep going; it'll be over before you know it and you will be so proud of yourself. It'll be worth it.