February 6, 2015
If thoughts of date night conjure images of your hair baking in a straightener or spending an hour with curlers in your hair, think again, because you're doing it wrong. Date night glam doesn't have to take forever, and it certainly doesn't have to lead to endless frustration. Take the guesswork out of your next sultry evening with these five super-easy hairstyles.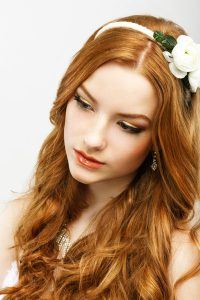 Beach Waves
Beach waves are the style of the moment everywhere from fashion runways to local coffee shops. This romantic, alluring look is super-easy to pull off. Simply grab a one-inch curling iron and wrap one- to two-inch sections of hair around it, leaving the ends loose. Finger-comb, spray, and then go. For an even easier take on this gorgeous look, try wrapping your hair in two to three tight buns an hour or two before you leave. Blow with a drier for two minutes, unwind, finger comb, and then enjoy your glorious waves!
Loose Twist
For a modern take on the classic French twist, try this: Pull your hair into a sleek ponytail at the nape of your neck. Then flip your hair up and begin twisting till you reach the top of your head. Fold the loose part of your hair down into the twist and pin in place. Pull a few pieces loose for a romantic, undone look. For even more glamour, try curling the loose pieces or adding some hair jewelry to the twist.
Sleek Ponytail
If you have straight hair but don't have time for a blowout or session with the curling iron, try pulling your hair into a ponytail just above the nape of your neck. Run shine serum through the ends, comb thoroughly, and them embellish with pearl hair pins or a floral hair band.
Half-Up
Add a little glamour to your hair by pulling half of it up and away from your face. Not only does this give you a chance to showcase a gorgeous barrette or hair pin; this look is also extremely versatile. Try braiding the pulled-up portion for boho chic. Or channel 1940s-style glam by pinning the half-up portion to the top of your head, then twisting each side for dance hall-inspired sophistication.
Glamorous Topknot
A topknot offers a gorgeous twist on the classic chignon. To master the look, pull your hair into a tight ponytail at the top of your head, using gel to secure any flyaways in place. Then begin twisting your hair at the top, twisting all the way to the ends. Wrap the twisted portion of your hair into a topknot, then pin in place. This look works great for a sophisticated evening out, but if you want to add a little romance or boho chic to the look, try pulling a few strands loose or throwing some tiny flowers in your hair.