June 5, 2014
Finally! The days are growing longer and longer, the sun is shining, and temperatures are creeping up above 70. All across Portland and Vancouver, Northwesterners are digging out our shorts from the dresser and dragging sundresses from the back of the closet. These light and airy looks are great for summertime, but for many people hairy legs could be ruining your warm-weather look.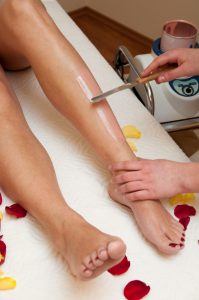 What to do about your hairy stems? There are lots of options if you choose not to go au natural. Shaving, depilatories, and laser treatments will all remove hair effectively, but waxing offers the longest-lasting, most affordable treatment around. Here are a few reasons why we think waxing is the way to go:
Safe: Think about the last time you shaved your legs. Chances are you were hunched over in a cramped shower with water pounding your back and shampoo or conditioner running into your eyes. This common scenario is not the safest place to be wielding a sharp object. Naturally in this position, chances are high of cutting your skin when the razor slips. Over time, these nicks and cuts can leave unsightly scars. Chances of damaging the skin in this way when waxing are next to none.
Natural: Unlike depilatory creams that use harsh chemicals to eat away the hair from your body, waxing uses natural elements to remove the hair at the root.
Affordable: Whether you do them at home or have them done professionally in a salon, waxing sessions are an affordable way to remove hair for weeks at a time. Compared to laser hair removal sessions at thousands of dollars per leg for hair removal, monthly waxing, even in a high-end salon, is a bargain.
Efficient: Plain and simple, waxing your legs can save you time. While the procedure can take an hour or more to complete, you won't have to repeat for weeks, saving your precious time each morning in the shower that you would have spent shaving. Legs stay smooth for up to three weeks after waxing.
Waxing isn't for everyone, though. If you have certain skin conditions, extremely sensitive skin, or take acne medication, waxing your legs is not recommended. And if you can't hold off on shaving long enough to let your hair grow out to a minimum of ¼ inch, the wax won't be able to secure the hair and remove it from the follicle.
Bottom line is that you can get better, longer-lasting results with waxing than shaving and that should be enough to help you dare to go bare this summer.
During the month of June, save $5 on a full leg was at Phagans salon. Call our Clackamas at 833-840-9039 to schedule your appointment today.