August 24, 2013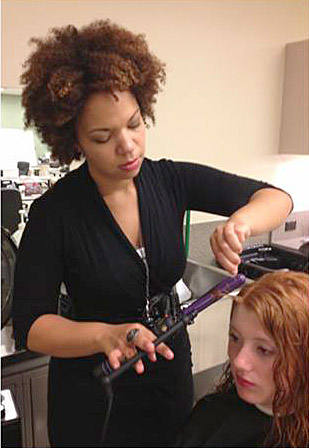 We are proud to welcome new staff member Brandy Mendez, who is a new instructor at our Clackamas location.
How old were you when you became interested in the beauty industry?
I always liked doing hair. I was always messing around, coloring my mom's hair, doing my sister's nails or cutting the cat's fur. I went to beauty school during my sophomore year in high school and I actually graduated from beauty school before high school.
What did you like when you were attending beauty school?
I enjoyed interacting with all of the different people and helping the people in my community.
Where did you work after beauty school?
I worked in an Aveda Day Spa for a year and a half and then I had a child. I did go back behind the chair and I specialized in multi-textured and ethnic hair, but basically I did it all.
What is your favorite service to perform?
I love dry-styling and finishing styling.
Why did you become an educator?
I wanted to share my gift and perspective with others.
What do you like about being an educator?
I like being able to grow as an individual and master what I'm teaching and then passing on the knowledge in an efficient way. I also enjoy seeing the students succeed and do well.
What advice would you give to anyone thinking about going to beauty school?
Say yes to every person, broaden your perspective, be open and flexible and always ask lots of questions.
How are you liking Phagans?
I like it alot! It's very personal, family-oriented, there's a structure and all of the instructors invest in each other's success and teamwork. Students are eager to learn and are respectful and that is the best.