August 5, 2013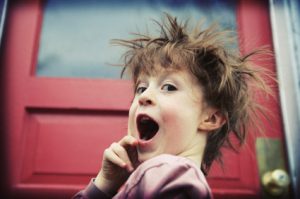 Moms of little girls have it easy. There are lots of choices in clothes, hairstyles, and accessories to help your little fashionista or sporty sue or tiny princess find just the look she's pining for.
But what about the boys? For decades it has been far tougher for a boy to express his personality though clothes or hairstyle. Just check out this modern hairstyling poster from the early 60s – not much choice between styles.
Luckily, boys these days aren't relegated to the bowl cut or the Gomer Pyle. Read on for some of the hottest styles for boys heading back to school in 2013.
Spiky – A spiky cut works great for boys with straight, thick hair. This style is a short buzz, but unlike it's forefathers in the 50s and 60s, spikes today are blended from the side to the top to create a smooth look rather than a flattop.
Textured and tight – This short, no fuss style is textured all over for a carefree look. It works well for kids with cow licks and odd hair growth patterns since it camouflages these sometimes difficult to manage patches. Kids (or moms) can choose product or no product with each day's whim.
Conservative – A medium length, conservative cut is cute on the boy whose personality matches. With a side part, longer angled bangs, and tapered neck and ears, this cut suits your tiny Tom Brokaw.
Shaggy – Scooby Doo's sidekick had a swoopy shag long before the Biebs sported it on stage. With long hair on younger boys making a comeback, a shag is an easy way to show off longer locks. Whether you go shorter with long, thick bangs, or shagged fringe all over, these styles require a little more styling to maintain the look.
Whatever style your kiddo wants to show off in the halls this fall, you'll get a great deal on haircuts during the month of August at Phagans. School aged boys and girls can get a back-to-school 'do for only $3 at either Phagans location. Call today to schedule your appointment and beat the end of summer rush.