July 7, 2013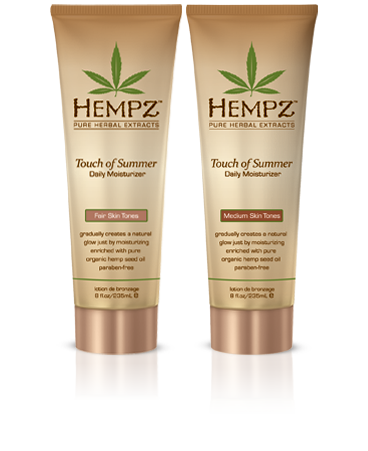 If you're looking for that golden summer glow without tanning beds or hours baking your skin in the sun (your dermatologist thanks you!), a self tanning lotion may be just the answer you're looking for. Hempz, one of the most trusted brands in skin care, has a product that could be just right for you.
Hempz Touch of Summer Self Tanning Lotion
Hempz Touch of Summer is made with 100% pure hemp seed oil which hydrates and conditions your skin while your are tanning. The tanner is gradual and subtle. It enhances your skin's natural color and gives you a natural – not orange – look. Over time, the tan will fade, just like a real suntan. To maintain the look, simply apply Hempz Touch of Summer as your daily moisturizer.
This colorless tanning lotion goes on smoothly. It provides good coverage and doesn't collect in unwanted areas like your elbows, knees, or between fingers. The berry breeze fragrance is pleasant, unlike many other self tanners.
During the month of July, get that sun-kissed look for less. When you buy Hempz self tanners at Phagans, you'll save 25%. And Hempz has a variety of tanners for you to choose from to get the glow you want.