July 5, 2013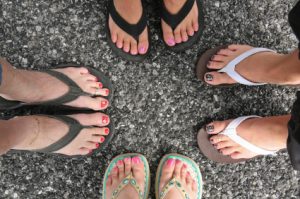 It's sandal season! Are you feet ready?
After months of cold, rainy, grey weather, it is finally summer in the Pacific Northwest. The sun is shining and temperatures are rising. We've already endured our first heat wave of the season.
With all this warm weather, we're shifting into shorts, sundresses, and sandals for the next few months. And while we're ready for the change, our feet may not be. Get your tootsies ready for summer with a skin-smoothing, professional gel pedicure. Here are three reasons why gel pedis are the way to go for sandal season.
Long-lasting look: Just like with a gel manicure, gel pedicures are the longest lasting type of treatment for your toes. Baked on with UV light, the gel adheres to your toe nails, giving you a glossy look that resists chips and breaks for nearly twice as long as a regular pedicure.
Summer color: This summer's hottest looks for nails are available in gel. This summer, go bright with orange, coral, vibrant pink or royal blue. Or choose one of 2013's trendiest neutrals in silver or beige.
Seasonal style: New gel nail art gives your pedicure that extra something that summer demands. Palm trees or tropical flowers make you feel like you're on vacation all the time, and the designs stand out when you're showing those toes in your favorite sandals.
This sandal season, Phagans can help you get ready with a gel pedi. Save $5 when you schedule your pedicure during the month of July at the Phagans location nearest you.