June 10, 2013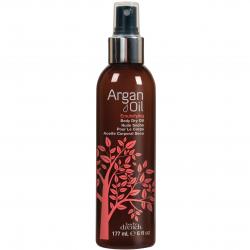 In the Pacific Northwest, we wait all year for the summer sun to come out and shine. After months of grey, rainy skies, we all long for days spent playing outdoors. But whether you're kayaking on an lake, hiking on Mt. Hood, eating alfresco at your favorite restaurant or enjoying a outdoor concert, your skin is at risk. Exposure to summer sun and elements can leave your skin blistered, dry, and irritated.
Don't let summer fun make you untouchable. Take care of your skin this summer quickly and easily with dry oil spray.
Dry oil is a moisturizing oil that often comes in a spray. The spray mist helps you spread the oil on your skin evenly. There are a variety of dry oils on the market that contain different ingredients to match your skin type and preference. Often dry oils will contain some combination of olive, jojoba, or argan oil to smooth and essential oils or extracts with healing properties and pleasant scents. Some even have ingredients to help protect against harmful ultra violet rays.
One of our favorite dry oils is the Body Drench Argan Oil Emulsifying Dry Body Oil. It contains argan oil, jojoba oil, and rosemary extract to moisturize and improve elasticity of your skin. At Phagans, during the month of June, you can save 25% on all body lotions and self-tanners, including dry oils, making this a great time to try the latest in moisturizing treatment for your skin.
For best results, spritz the dry body oil onto damp skin immediately after taking a shower or a bath. The oil will help hold in moisture and provide a light shine, leaving your skin silky smooth with a slightly matte finish.
If you're ready to have velvety skin all summer long, come by either Phagans retail location this month and choose the dry oil that is right for you.