June 6, 2013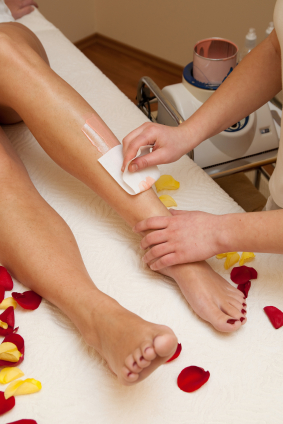 "You're going to do what? There?"
Let's face it. Waxing, especially the first time, can be a little frightening.
The truth is that in addition to the obvious result of smooth sexy skin all summer long, waxing has other benefits. Hair in the armpits and bikini region trap natural oils that can produce unwanted odor, especially during the warmer summer months. Waxing eliminates the hair and can therefore reduce odor. Also, regular waxing changes the texture of hair and thins the follicle, making future waxing less painful.
Once you've wrapped your head around the process of having your hair removed from the root using hot wax, popsicle sticks, and cloth strips, the next steps to smooth summer beauty are as easy as 1-2-3. Read on for tips to get started for a terrific waxing experience.
Before
Exfoliate: Every other day, use a loofah to remove dead skin cells from the area you plan to have waxed. Be sure to stop exfoliation at least 24 hours prior to your appointment.
Plan wisely: Let your hair grow out to at least ¼ inch before your appointment so the wax has something to grab onto. Also, don't schedule your waxing appointment in the 3-4 days prior to your period when you are more sensitive to pain. Instead, schedule for a week or two after your period.
Medicate: Taking 2 ibuprofen about an hour before your appointment can help you manage any pain and works to mitigate any inflammation from the process.
Immediately After
Cotton is king: Wearing loose clothing or underwear made of natural cotton fibers can help your skin rebound from waxing. Tight, synthetic fabrics can irritate the skin and prevent it from breathing.
Hands off: It can be difficult to resist your new silky smooth skin, but you should avoid touching the waxed areas for at least 30 minutes following your appointment. This allows your pores to replenish their natural oils which act as a protective layer.
Stay dry: Following your waxing appointment, wait several hours before you go into a swimming pool, hot tub, or spa. Your open follicles are susceptible to bacteria that can cause infection.
After
Protect your skin: Waxed skin is sensitive to the sun and more prone to burning. Take care to cover up, but don't use perfumed lotion or tanning lotion for at least 24 hours following your appointment.
Exfoliate some more: Five days after your appointment, you can begin exfoliating the waxed skin. Use a loofah or a light exfoliating cream. This will keep your skin smooth and help prevent unwanted ingrown hairs.
Toss your razor: For best results, don't shave or trim hair between your waxing appointments. Schedule appointments 4-6 weeks apart. This increases the chance of removing the follicle with the hair, often resulting in a decrease in hair growth. Many women see a change in hair growth after just two sessions.
If you're ready to make your skin smooth and sexy for summer, Phagans can help. During the month of June, you can get a bikini and full-leg wax for only $45. Call the Phagans location nearest you to schedule your appointment today.