August 27, 2012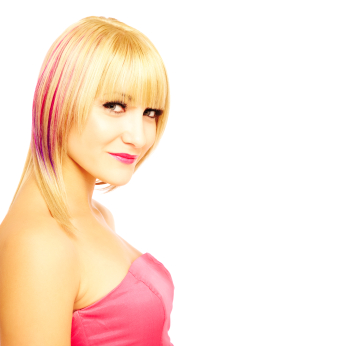 If you're ready to get glammed up in a whole new way and look cool for back to school then you should try peek-a-boo highlights in fashion colors. Here's why we love them:
Sassy look for school: Whether you're heading back to high school in September or planning for your milestone reunion, adding some peek-a-boo highlights can give your look just the kick you were looking for. The color peeks out from underneath top layers, adding dimension to your style.
No retouching roots: Since the color is applied to underneath layers of your hair, there is no need to touch up the roots as your style grows out. You can keep the color in for as long as you'd like without having to reapply.
Be bold or demure: With most peek-a-boo highlights, you have the option to show more or less of the color underneath depending on how you style your hair. This means that you can go for a more conservative daytime look and still rock out the parties on the weekend.
Color options: With peek-a-boo highlights, you can experiment with different color profiles. Just want a touch of highlight in your chestnut or auburn hair? Go with a natural looking golden blonde peek-a-boo. Want to add more drama? Choose a fashionable color like hot pink or red or blue to complement your blonde or black hair.
Hair health: Another great reason to try peek-a-boo highlights is that the technique doesn't require bleaching, so it is less damaging to your hair. This is especially important after a summer spent in the sun and salt air.
Call Phagans Clackamas at 833-840-9039 today to schedule your appointment for peek-a-boo highlights and save.