July 5, 2012
We wait for it all year – these FINALLY warm, sunny days that are just perfect in the Pacific Northwest. Now that they are finally here, we're all rushing outside to enjoy all our region has to offer for fun with our friends and family.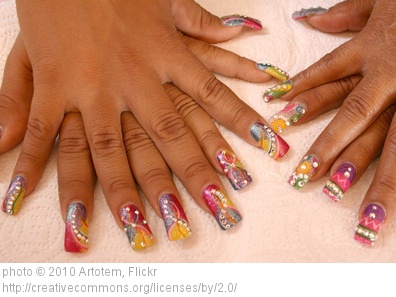 But beware that all that fun in the sun can wreak havoc with the nails on your hands and feet. Here's how:
Dry Weather
As we write this, acres and acres in the state of Colorado are burning due to the forest fires* brought on by dry, hot summer weather. In Portland and Vancouver, we are lucky to have much more moisture in the air, but our area does dry out considerably during the summer months. Dry weather and wind can suck the moisture right out of your body, including your finger and toe nails. Be sure to drink lots of water each day to stay hydrated and use hand and foot cream to moisturize your nails.
Sun Exposure
Extended amounts of sun that we're so grateful for during the summer season can also harm your skin and nails. In addition to sun burn, sun exposure can dry cuticles and harm your nail growth. Always use a sunscreen on your skin and hands to help protect them during the summer.
Chlorine
Hot, sunny weather means more time in the pool. But chemicals like chlorine in the pool can do fast damage to your easy, breezy, summer look by turning hair greenish, fading polish on your nails, and making previously healthy nails brittle, weak, and prone to breakage. To combat this damage, always wear base and top coats with your polish and wash and dry your hands and hair after a dip in the pool.
Outdoor Activity
Whether you are a surfing, hiking, gardening, or simply barbecuing in the back yard, more time outdoors can equate to more exposure to the elements. As we've seen, wind, sun and dry weather can cause dry, brittle nails and flaky, callused feet. Be sure to moisturize and use sunscreen.
Diet
Sometimes in the summer we're eating on the run and not getting the nutrients we need to keep our nails healthy. Be sure to drink lots of water, indulge in the bevy of fresh fruits and veggies available at the local farmers market, and take your vitamins. Your nails will thank you for it.
Want a little extra help pampering your nails this summer? Visit Phagans for our July special. You get a Spa Pedicure and Express Manicure for only $20. Treat yourself today!
Need help maintaining your nails after you leave the salon? All OPI products are buy one, get one half off during July at both Phagans locations in Clackamas and Lloyd Center.
*The health and safety of every man, woman, child, and animal in Colorado are in our thoughts.