December 2, 2011
Shiny and sparkly go together during the holidays as easily as Happy and New Year. When you're planning your festive style this winter, be sure to make room for a little extra dazzle. Pairing sequin tops with sheeny slacks or buying a new beaded dress are easy ways to add sparkle to your look.
But what if you're on a budget (and who's not as we wrap up 2011)? Never fear. There are lots of ways to get the glistening look you're after without breaking the bank. Here are five of our favorites.
Accessories: Dressing up a simple outfit can be easy and fun with the right accessories. Go a little over-the-top with sparkly belts, shoes, and handbags. Pull on some glittery hose to keep warm and warm up your outfit.
Makeup:  Don't want to wear shine in your clothes? When you're clothes are more subdued, you can let your face sparkle.
Choose shimmery eye shadow in an array of colors for the basis of your makeup bling. Take it over the top with sparkly eye liner and false lashes. Or keep your makeup neutral and dust a shimmery highlighter over your cheekbones. Pop a bright, shiny red or burgundy lip to complete the look.
Jewelry: Bring on the bling! You can choose to play up one accessory (think a chunky, light catching necklace or an armful of bangles) or trim yourself like a Christmas tree with jewelry of all sorts. During the holidays you can get away with a little indulgence.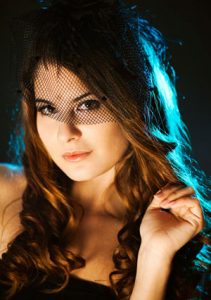 Hair accessories: Jazz up your hair with some sparkle. Adding a feathered headband, rhinestone clip, or jeweled comb instantly transforms your look from work to where's-the-party. Make a statement with a fascinator. You can find them in a variety of styles that are priced from affordable to indulgent. Or strategically place a little hair tinsel for some added sparkle.
Color: Cutting-edge colors this season are deep jewel tones that help you create unique holiday flair. Teal, burgundy, plum, and black are the go-to colors on the runway for winter. Try shimmery plum eye shadow, a burgundy fascinator, or a peacock clutch to capture the magic of this season.
Need more help jazzing up the holidays without breaking the bank? Phagans Portland Salons can help. Through the month of December we've got $5 haircuts to keep you looking great. Or before your next party you can indulge in our Holiday Pamper Package – a manicure, shampoo, blow dry, and makeup application for only $25. You'll look and feel fabulous without blowing your budget.