May 7, 2014
No matter how many alarm bells dermatologists raise about tanning beds, the temptation to gain a glorious sun-drenched glow can be overwhelming, particularly if your perfectly grey Spring is interrupted with a few unseasonably sunny and hot days. If you're on the pasty end of the complexion spectrum, Hempz, a purveyor of natural tanning products, comes to your rescue just in time with summer, with an entire line of products that will get you a tan without the risk.
During May, be sure to go to one of Phagans School of Hair Design's Portland location for offering 20% off all Hempz products.
Introducing the Hempz Line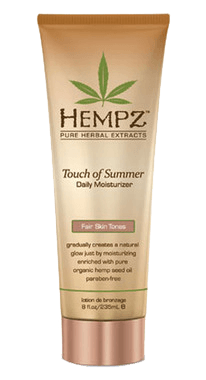 Hempz promises to leave you with a sunless glow, while nourishing your skin and posing no risk of skin cancer. The company offers products for every tanning level you could possibly want – from a subtle bit of color to a rich, glowing bronze. Its product line includes:
SoBronze body bronzer, which offers a darker, longer-lasting glow that won't flake off or look chalky.
Instant Body Bronzing Mist, which offers a subtle glow in an easily applied spray formulation.
Tinted self-tanning moisturizers that leave a subtle glow that builds over several days. The version for your face is available in an oil-free formulation so that you're never left with clogged pores.
Hempz also offers a pre-tanning polish designed to moisturize and condition your skin for maximum results, no flaking, and a glow that lasts up to a week.
Do the Products Work?
All of Hempz's products contain pure, 100% natural hemp seed oil, which means the company's products will never harm your skin. Hemp seed is known for its moisturizing and protecting benefits, so Hempz's sunless tanners can even help reduce the aging effects of previous sun exposure. Moreover, the hemp seed will prevent your skin from flaking and help prevent dry patches – both of which can cause your tan to wear off more quickly.
The products work, and work quickly. You can expect to see a glow begin to develop within a few hours of your first application, and your tan will steadily build for the first hour. If you take good care of your skin – moisturizing every day and exfoliating before you apply sunless tanner – your glow can last as long as two weeks, and will last at least one week.
If you want a glow that looks like you just came back from Mexico – or at least stepped out of a tanning  bed – go for the SoBronze line. If you're hoping for something a bit more subtle, aim for one of the tinted moisturizers, and build up a little more color each day. No matter which product you choose, though, you can't go wrong with Hempz, and your skin will thank you for your choice of natural and healthy ingredients.