December 3, 2012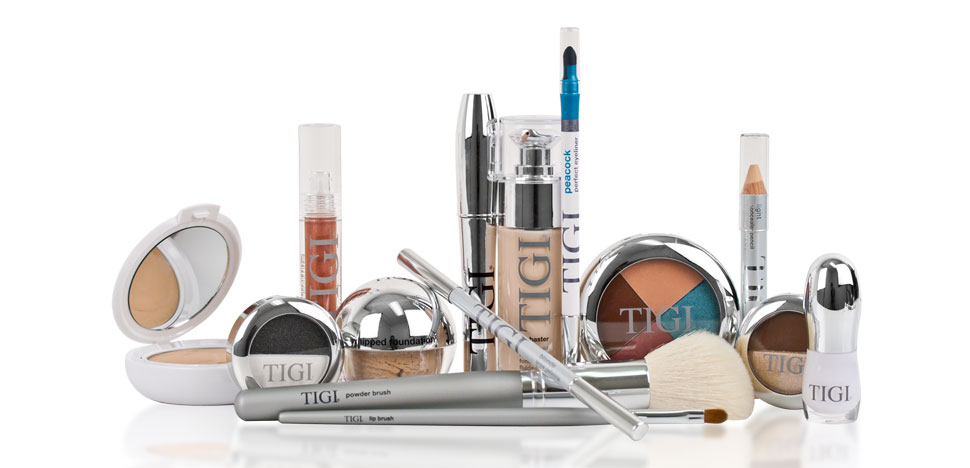 Well-known for their acclaimed hair care products, TIGI has also produced quality cosmetics since 1989. Their Bed Head cosmetics challenged the notion of what a woman's makeup should look like and challenged the department store brands with a breath of fresh air. Now TIGI has created a new cosmetic line that is sleek and multi-functional, putting a modern spin on the Bed Head formulas. Read on to learn how to use TIGI's cosmetic products to create two of this season's hottest looks.
Luscious Lips
These lips are soft, sparkly and sultry – perfect for the holiday season. Use these tools to get the look.
Perfect Lipliner: This soft lip liner will smooth onto your lips without snagging the skin, creating a perfect edge for your luscious lips. Use the smudge end to soften the line.
Decadent Lipstick: Using a lip brush, smooth on Decadent Lipstick in the color of your choice (we recommend Passion this season), starting in the center and blending color to the edges. The lipstick is soft and creamy, and feels great on your lips.
Luxe Lipgloss: Dab the Luxe Lipgloss in the center of your lips and smooth out slightly. Using Diamonds & Pearls will give your lips a long-lasting holiday shine.
Statement Eyes
For eyes that make a statement, you need to pump up the volume. These TIGI products can help you do just that.
Liquid Enhancer: TIGI's Liquid Enhancer boosts the color intensity of eye shadow, giving you the dramatic, long-lasting looks you want for the holidays. Moisten your angle brush with the enhancer before you apply your shadow.
High Density Eye Shadow: This eye shadow is deeply pigmented to provide complete color coverage. Used with the enhancer, the color really pops. Use one of the season's newest colors, a shimmery teal called Flirt, to line eyes and sweep over lids to the crease. Blend cleanly using a blending brush.
Eyeliner and Mascara: Use Perfect Eyeliner in black to create a clean, yet dramatic edge to your eye and finish off the look with Eyes Love It Mascara. The pop of black frames your eyes and punctuates your statement.
TIGI understands that the best make up is about revealing your inner beauty, not covering you up. Next time you are indulging in a day at the Phagans salon, ask your stylist about a complimentary makeup service to accompany your cut, style, or color. We're happy to provide with a professional make up experience and share a few tips of the trade.